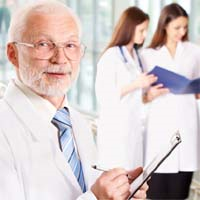 The PCI remains the most important factor concerning the long-term survival.
Raleigh, NC (PRWEB) June 12, 2015
New research on 140 patients with peritoneal mesothelioma or another form of peritoneal cancer suggests that the location of the tumor and the pattern of cancer spread in the abdomen can be highly effective prognostic tools. Surviving Mesothelioma has just posted an article on the new study. Click here to read it now.
Using a mapping tool called the Peritoneal Cancer Index(PCI) score, doctors with the Metaxa Cancer Hospital in Piraeus, Greece analyzed the cases of patients treated with cytoreductive surgery and heated intraperitoneal chemotherapy (HIPEC) between 2007 and 2013.
"The PCI remains the most important factor concerning the long-term survival," writes Dr. John Spiliotis, lead author of the study.
The team found that mesothelioma prognosis varied based on the number and location of peritoneal metastases and the location of the primary tumor.
"Prognostic tools can be an important part of mesothelioma treatment planning," says Alex Strauss, Managing Editor of Surviving Mesothelioma. "The more clinicians know about a mesothelioma patient's unique situation, the better the odds of optimizing treatment and survival."
For more on the PCI and which areas of peritoneal cancer are linked to better and worse survival odds, see Peritoneal Mesothelioma Survival May Depend on Cancer Location, now available on the Surviving Mesothelioma website.
Spiliotis, J et al, "Mapping the location of peritoneal metastases using the peritoneal cancer index and the correlation with overall survival: a retrospective study", 2015, Journal of BUON (Balkan Union of Oncology), pp. 64-70. http://www.jbuon.com/pdfs/Spiliotis%20mapping%20the.pdf
For nearly ten years, Surviving Mesothelioma has brought readers the most important and ground-breaking news on the causes, diagnosis and treatment of mesothelioma. All Surviving Mesothelioma news is gathered and reported directly from the peer-reviewed medical literature. Written for patients and their loved ones, Surviving Mesothelioma news helps families make more informed decisions.