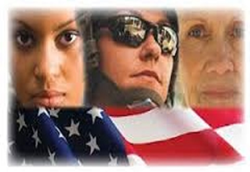 We are expecting over 250 women Veterans and guests, it should be an exciting night. I am proud to be part of an event that recognizes the important contributions of women Veterans
Cincinnati, Ohio (PRWEB) June 10, 2015
Cincinnati Veterans Affairs Women's Health Clinic will host an education fair and banquet for women Veterans June 11 at the National Underground Railroad Freedom Center from 6 p.m. to 10 p.m. WLWT Reporter Karin Johnson will be the emcee. The event is sponsored by Cincinnati Education & Research for Veterans (CERV) Foundation. CERV supports research and education to benefit current and retired members of the U.S. Armed Forces.
The banquet will recognize four Tri-State Woman Veteran Lifetime Achievement Award recipients. The award recognizes a woman Veteran who has displayed a record of exemplary service and leadership while either serving in the military, as a Veteran or in her community.
The event honors women Veterans and is free for women Veterans. "We are expecting over 250 women Veterans and guests, it should be an exciting night. I am proud to be part of an event that recognizes the important contributions of women Veterans," said Women Veteran Program Manager Shirley May.
Who: Women Veterans and their guests
When: Thursday, June 11 at 6:00 p.m. – 10:00 p.m.
Where: National Underground Railroad Freedom Center
50 East Freedom Way
Cincinnati, Ohio 45202
Contact: If you are interested in covering the event, contact Denise Kerr, Director of Public Affairs for Cincinnati VAMC and VISN 10 at denise.kerr2(at)va(dot)gov, (513) 487-6056.
About us: The VA Healthcare System of Ohio (VISN 10) is one of 21 Veterans Integrated Service Networks (VISN) of the Department of Veterans Affairs. VISN 10 is comprised of five VA Medical Centers, one ambulatory care center clinic, and 33 community-based outpatient clinics which provide comprehensive inpatient and outpatient health care to veterans in Ohio, Indiana, Kentucky and West Virginia