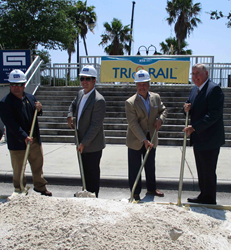 We look forward to working with the SFRTA in bringing their vision and first LEED certified station to life.
Pompano Beach, Fla. (PRWEB) June 11, 2015
Gulf Building LLC joined the South Florida Regional Transportation Authority (SFRTA) on May 22, 2015 for the official groundbreaking of SFRTA's first LEED certified station. The esteemed Fort Lauderdale-based construction management firm was selected as the general contractor for the project, overseeing construction of the SFRTA Operations Center and Pompano Tri-Rail Improvements. The new station—part of the overall, long-term construction project—will be adjacent to the SFRTA's new headquarters in Pompano Beach, FL.
"We are excited to begin construction on this new project that will benefit the hundreds of thousands of South Florida Tri-Rail passengers and enhance the City of Pompano Beach," said John Scherer, president and CEO, Gulf Building LLC. "We look forward to working with the SFRTA in bringing their vision and first LEED certified station to life."
Positioned as the prototype for the SFRTA's station-of-the-future, the reconstructed station will feature solar panels that will provide 110% of the power needed to operate the facility. The solar system could prove invaluable in the event of a hurricane such as Wilma, which occurred in 2005. That storm took out power at all of the 18 Tri-Rail stations and shut the Tri-Rail system down for 17 days.
Among the other additions to the station will be native vegetation that requires less frequent watering, an overpass that will enable passengers to cross from platform to platform without having to cross at grade level, and energy efficient elevators to access the pedestrian bridge. The station will also provide new secure bicycle lockers, dedicated alternative fuel-source parking, carpool/vanpool parking, LED lighting fixtures, and a shaded, reconfigured parking lot.
Gulf Building offers a full range of in-house construction services including general contracting and construction management. Its portfolio includes new construction and renovation in the hotel, medical, office, educational, industrial and governmental sectors, as well as its ever-growing repertoire of high-end, custom residential projects. In addition to the South Florida Regional Transportation Authority (SFRTA) Operations Center and Pompano Tri-Rail Station Improvements, other notable contracts awarded and recent projects in the works include the structural concrete for the new Jet Blue Terminal 3 planned at Fort Lauderdale/Hollywood International Airport. The company also was selected as the general contractor for the construction of Maritime Professional Training's 25,000-square-foot facility expansion currently underway at the private maritime training school's Fort Lauderdale campus.
Founded in 1991, Gulf Building LLC provides an innovative, integrated and hands-on approach to and for construction management, serving the greater South Florida market and beyond. Celebrating 25 successful years in business in 2015, the esteemed Fort Lauderdale-based builder maintains that improved timeliness is just as important as staying within budget, and that quality materials mean little without the expertise and skill to guarantee precision. To that end, Gulf Building holds itself to a higher standard than most other construction firms, not only in the work that it delivers, but also with regard to the employees in which the company invests. With a foundation based on integrity, quality and experience, Gulf Building's detail-oriented, forward-thinking approach to construction management consistently generates end results that are on time, within budget and exceed client expectations.
Gulf Building's headquarters is located at 633 South Federal Highway, Suite 500 in Fort Lauderdale, FL. For more information, including a detailed overview of services and portfolio of past projects, visit http://www.gulfbuilding.com.