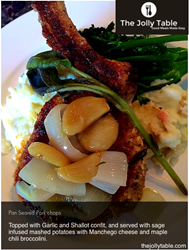 Our concept is to curate original recipes from chefs and pair them with sustainable local ingredients for a variety of meal types. We then allow our customers choose whether they want to try a recipe once, or on a repeat basis
Calgary, Alberta, Canada (PRWEB) June 11, 2015
The on-demand economy has also provided opportunity for a growing trend in fresh ingredients delivery to those with limited time nor interest to grocery shop for recipe ingredients. United States companies such as the subscription-based Blue Apron have revealed that they are delivering more than one million meals monthly since starting in 2012. Others like Plated and HelloFresh have also experienced significant growth in their subscriptions within the same period. Inspired by these companies, The Jolly Table expects that the ingredient delivery service will also catch on in Canada with slight modifications to the subscription model.
Noteworthy of the trend north of the border is that customers must subscribe in advance to receive weekly deliveries of basically the same meal kits as everyone else. The obvious advantages to the subscription model are pre-confirmed sales from locked in consumer spending and operational efficiencies in sourcing and order fulfillment. The downside however lies in their customer's lack of choice and flexibility.
The Jolly Table Meals Inc. plans to distinguish itself by focusing its recipes around high quality ingredients from local farm communities across Canada and by offering customers the ability to choose from those recipes on a one-off or repeat basis.
"Let's face it – no one wants to feel like they are bound to the exact same meals, at the same time as the rest of the country. It feels mass produced," said co-founder and CEO Voke Boghean. "Our concept is to curate original recipes from chefs and pair them with sustainable local ingredients for a variety of meal types. We then allow our customers choose whether they want to try a recipe once, or on a repeat basis."
Currently, serving Calgary and area, a Jolly customer can try 1 to 3 portions of a recipe kit for $15.99 each. A $1 discount is applied to each portion when four of the same item is purchased. Delivery to Calgary is free while outside Calgary areas pay $5 - $8 dollars per delivery. Boghean explains the focus on Calgary by adding, "Because the freshness of our food is so important, our initial activities have to be strictly focused on the Calgary area." The company however says that it has future plans to expand across Canada and eliminate delivery fees altogether.
So how does The Jolly Table provide an affordable yet fresh ingredients delivery service? Boghean adds, "We localize our supply chain as much as possible, relying first on regional producers for seasonal produce and meats. We focus on shortening the distance between the farm and our customers' kitchens making the ingredients in our kits fresher, and cheaper, than what you'll find at your local grocery store."