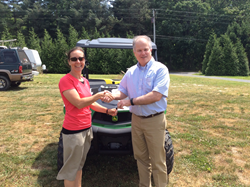 Westminster, MD (PRWEB) June 23, 2015
MidAtlantic Farm Credit announced Marcia Spence of Dover, Delaware as the winner of their 2015 John Deere Gator giveaway contest. The contest was held as part of the association's annual stockholder meetings, which took place April 7-9, 14, and 15 in various locations around the region.
"The Spence family has played an instrumental part when it comes to poultry on Delmarva," says Martin Desmond, area lending manager with MidAtlantic Farm Credit. "They have referred and mentored many local producers and are an absolute pleasure to work with. I am so happy that we could provide this prize to such a hardworking family."
Spence and her family were presented with the John Deere Gator in late May at their poultry operation, Four Arrows Farm. "Who would think that you're going to win something like this from someone you're borrowing money from?" says Randy Spence, husband of the winner. "That just proves the decency of Farm Credit. We couldn't be more grateful."
For more information about MidAtlantic Farm Credit's annual stockholder meetings, visit mafc.com/annual-meeting-wrapup.php.
About MidAtlantic Farm Credit
MidAtlantic Farm Credit is an agricultural lending cooperative owned by its member‐borrowers. It provides farm loans for land, equipment, livestock and production; crop insurance; and rural home mortgages. The co-op has nearly 10,500 members and approximately $2.3 billion in loans outstanding. MidAtlantic has branches serving Delaware, Maryland, Pennsylvania, Virginia and West Virginia. It is part of the national Farm Credit System, a network of financial cooperatives established in 1916 to provide a dependable source of credit to farmers and rural America.