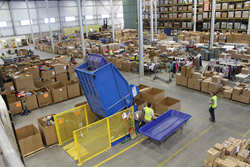 Gorham ME (PRWEB) June 10, 2015
Goodwill Industries of Northern New England is now offering behind the scenes tours of our warehouse in Gorham, Maine.
Donated items not sold in Goodwill's Retail Stores are taken to our Buy the Pound outlets in Gorham and Hudson, New Hampshire. They are sold at deep discounts in both locations. If they don't sell there, they are sorted and processed. Goodwill NNE is one of the largest non-profit consolidators for recycled goods in New England.
Visitors will see how goods are sorted and prepared for aftermarket sales and recycling.
Tours will be held between 2:00-3:00pm on the second Thursday of each month at 34 Hutcherson Drive, Gorham, Maine.
Upcoming tour dates for 2015 are June 11, July 9, Aug. 13, Sept. 10, Oct. 8, Nov. 12 and Dec. 10. Goodwill NNE also has a warehouse in Hudson, NH and tours are being planned for that location, too.
Children are welcome on the tours, but a parent must accompany each child. Reflective vests will be provided and are required for all visitors. Each tour is limited to 12 guests.
Members of the media who would like to attend a warehouse tour should contact Ken Christian, Senior Director, Communications at Goodwill NNE at ken.christian(at)goodwillnne(dot)org or (207) 774-6323.
# # #
About Goodwill Industries of Northern New England
Goodwill Industries of Northern New England has a 10-year goal of being instrumental in moving 10,000 households out of poverty and into stability in our territory of Maine, New Hampshire and northern Vermont.
We not only create training opportunities and jobs within Goodwill, our Workforce Services helps local businesses build their own workforce.
As an employer of more than 2,100 people and a social service provider, we have a unique perspective that can help other employers find and keep reliable employees. We operate 30 retail stores across northern New England.
Goodwill Neurorehabilitation Services in Portland, Maine and Lewiston, Maine offers comprehensive brain injury services and treatment options for people with acquired brain injuries. At Goodwill Neurorehabilitation Services, comprehensive, community-based therapies are provided to assist individuals with cognitive, emotional and physical needs – so lives can get back on track after a brain injury.
Goodwill NNE also operates Good Clean Property Services – a full service commercial property maintenance company offering the perfect combination of quality, customized, eco-friendly services.
Recycled Cycles, a Goodwill NNE service in New Hampshire, is a partnership with the Central New Hampshire Bicycling Coalition to create job training opportunities repairing and maintaining bicycles. Program participants also benefit through individualized training and mentoring. Recycled Cycles is focused on increasing community awareness about the health, environmental and cost benefits to transportational cycling.
Our services are funded by revenue from retail and recycling operations, grants, fees, and philanthropic gifts. Please visit http://www.goodwillnne.org for more information.