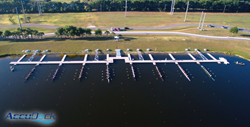 SANCA President Paul Blackketter comments on this being the 1st time the US Youth Rowing Championship will be held in Florida and said, 'It just goes to show you that this is a true world class course, that's only going to bring more and more events here'
Sarasota, FL (PRWEB) June 12, 2015
Nathan Benderson State Park, a 600 acre multi-use sporting venue that was recently named Florida's "Venue of the Year" by the Florida Sports Foundation, is located right off the Gulf of Mexico amongst some of the most pristine and picturesque beaches in the world. Nathan Benderson Park is the perfect place for a wide range of sporting events and community activities such as paddle boarding, dragon boat races, canoe and kayak races, as well as triathlon and cross country events. However the the focal point of the park is its 500 acre lake and world class rowing facility complete with a 2000 meter, fully FISA compliant, rowing course, an island for spectators, and the world's only 10 lane floating dock specifically designed and manufactured by AccuDock® to easily accommodate the large number of competitors that often participate higher profile regattas and rowing competitions.
A combination of fully framed heavy duty aluminum dock sections (with a freeboard of 16") and low profile rowing dock sections (with a freeboard of 7") for the finger docks were used to create this world class 10 lane 425' start dock. Additional features that help maximize functionality include adjustable aligner planks that pivot vertically to give each individual boat holder optimum positioning for holding each shell and retractable finger docks that effortlessly slide in and out to accommodate varying shell lengths. The decision was made to deck this amazing start dock with PVC AccuDeck™ in order to match the two 16' x 80' launch docks AccuDock® had previously manufactured and installed.
Nathan Benderson State Park is already the confirmed host for a number of prestigious rowing competitions such as the 2015 Youth National Championships, which takes place this coming weekend from June 12th through the 14th, and consequently is the first time Florida will be hosting this event, ever! It was also recently announced that, for the first time in over 20 years, the World Rowing Championships, will be hosted in the United States at Nathan Benderson State Park in the Fall of 2017 and in addition, the 2018 Division I, II, and III National Collegiate Rowing Championships have also been scheduled to be hosted at Nathan Benderson Park. Suncoast Aquatic Nature Center Associates (SANCA), the non-profit company that manages the park on behalf of Sarasota County, will also be submitting proposals to host both the 2018 World Rowing Masters Championship as well as the World Rowing Coastal Championships.
AccuDock® floating dock systems offer solutions for all types of outdoor activities, whether it is rowing docks for clubs and universities, floating platforms for commercial applications, residential customers looking for kayak docks or floating docks, ADA compliant docks or aluminum gangways, AccuDock® supplies it all. As an ISO-9001 registered manufacturer, AccuDock® is committed to continuous improvement, customer satisfaction, and on time delivery. AccuDock® has over 20 years of experience in providing customers with floating dock solutions to meet their specific needs and has always been 100% committed to providing the highest quality and most innovative products while making sure each customer has an enjoyable experience every step of the way. What separates AccuDock® from other floating dock manufacturers is the ability to create any size, shape, or height floating dock, ensuring the best possible floating dock system for each install. AccuDock® floating docks are lightweight and portable, easy to install, and last for years to come. For additional information on AccuDock®, please go to http://www.accudock.com or contact an AccuDock® sales professional by calling 1-800-910-8535.