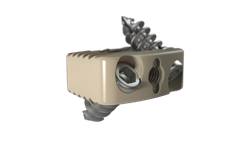 "Its standalone design makes implantation easier. The technology was designed with surgeons in mind. It's easy. It's simple. It's consistent."
Newport News, Virginia (PRWEB) June 11, 2015
Orthopaedic & Spine Center (http://www.OSC-Ortho.com) announced today that Dr. Mark W. McFarland successfully implanted SpineFrontier's A-CIFT™ SoloFuse-P™. The operation took place on Thursday, June 4, 2015 at Bon Secours Mary Immaculate Hospital in Newport News, VA. The procedure was an anterior cervical discectomy and fusion on a 57 year old, male patient. The patient suffered from both neck pain and bilateral shoulder pain as a result of stenosis at the operative level C3-4. Prior to undergoing surgery, the patient failed conservative treatments including physical therapy and anti-inflammatories.
SpineFrontier's A-CIFT SoloFuse-P is a Less Exposure Surgery (LES®) technology. LES technologies are designed with outpatient surgery in mind and strive for less disruption of the tissues. The A-CIFT SoloFuse-P standalone, vertebral body fusion device is a Less Exposure Surgery System featuring a simple, dual screw construct, a large graft window, large diameter screws, and slim, agile instrumentation. Its zero-profile and all PEEK-OPTIMA Natural design minimize tissue disruption.
Dr. McFarland remarked on the advantages of SoloFuse-P's design in the operation: "Today's case demonstrates an extremely minimally invasive surgical technique to fuse the cervical spine. The new SoloFuse standalone device eliminates the need for an overly aggressive surgical exposure or removal of previous spinal instrumentation. It serves to minimize our patients' post-operative discomfort and speed their final recovery."
SpineFrontier engineer Lucas Diehl explained how A-CIFT SoloFuse-P leverages the familiarity of existing techniques while providing an alternative to cumbersome plating for one-level procedures. "Its standalone design makes implantation easier. The technology was designed with surgeons in mind. It's easy. It's simple. It's consistent," said Lucas Diehl.
Dr. McFarland currently practices orthopedic surgery at the Orthopedic & Spine Center in Newport News, VA where he focuses primarily on the care and treatment of injuries and disorders of the spine. Dr. McFarland graduated from Oklahoma State University Medical School in 1999. He completed his residency in orthopedic surgery at Ohio University and then went on to complete an Orthopedic Spine Surgery Fellowship at the Florida Spine Institute in Clearwater, Florida. Dr. McFarland is a member of the American Academy of Orthopedic Surgeons and the American College of Osteopathic Surgeons. Among other honors, he received the "Graduating Physician Academic Excellence Award." His research includes studies on vertebral compression fracture outcomes.
About SpineFrontier Inc.
SpineFrontier Inc. (http://www.spinefrontier.com) is a growing medical technology company that designs, develops and markets both implants and instruments for spine surgery based on the Less Exposure Surgery (LES®) Philosophy. These technologies are designed to allow for outpatient surgery due to minimal disruption of normal tissues. SpineFrontier believes LESS is more: LESS time in treatment and recovery is more time in action for patients and surgeons. SpineFrontier is headquartered in Beverly, MA. It was founded in 2006, and released its first products in 2008. SpineFrontier is a KICVentures portfolio company and the leader in LES technologies and instruments.