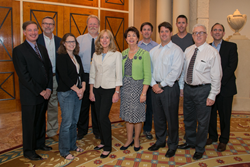 For many, volunteering for RBMA is a way to give back to an organization that was instrumental in building one's career and achieving personal growth.
Fairfax, VA (PRWEB) June 11, 2015
Effective June 9, 2015, the Radiology Business Management Association (RBMA) elected and installed new board members and officers for 2015-2016. The annual board election process has been in place since the RBMA was founded in 1968 with all board members serving on a volunteer basis.
Suzanne Taylor, BS, FRBMA, succeeds Keith E. Chew, CMPE, as president. Ms. Taylor has been an RBMA member since 1986. She has previously served on the board as parliamentarian, chaired the RBMA's Bylaws Committee and been a member of the RBMA's Federal Affairs and Payor Relations committees. She is a senior vice president of operations (central region) for Management Services Network, LLC.
Mr. Chew's service on the board continues as immediate past-president. He is managing director, strategic positioning and consulting solutions and senior vice president of Integrated Medical Partners, LLC (IMP) in Chatham, Ill. Mr. Chew previously served on the board as parliamentarian and chair of RBMA's Membership Committee and Executive Education Subcommittee.
Jim Hamilton, MHA, CMN, FRBMA, is president elect. He previously served on the board as treasurer and director-at-large. Mr. Hamilton is the administrator and business manager for Medical Imaging Physicians, Inc., a radiology practice in Dayton, Ohio.
Christie James, MS, FRBMA, is secretary and director-at-large. As the current president of the RBMA New England Chapter, current chair of the Programs Committee and past chair of the Payor Relations Committee, she is a senior operations manager for Radiology Revenue Cycle Management at Massachusetts General Physicians Organization in Boston and a consultant for Radiology Consulting Group (RCG) and C. James and Associates.
Thomas C. Dickerson, Ed.D., FACHE, is the new board treasurer and Midwestern director. He previously served on the board as director-at-large and also served on the Common Body of Knowledge Task Force and the RBMA Finance Committee. Mr. Dickerson is CEO of Clinical Radiologists, S.C., in Springfield, Ill., as well as president of Professional Business Services of Central Illinois, Inc., a medical billing company.
C. Chad Wiggins, MHSA, LNHA, is the new parliamentarian. He previously served on the board as a director-at-large. Mr. Wiggins is chief executive officer of Radiology Associates of Northern Kentucky, PLLC, in Crestview Hills, Ky.
Fred Downs, MS, PhD, remains on the board as Southern director. Dr. Downs works for Diagnostic Imaging Specialists in Atlanta. He chaired RBMA's Common Body of Knowledge Task Force and served on the Educational Materials and Products Committee.
Joining Mr. Downs in remaining on the board as a regional director is Worth M. Saunders, MHA, FACHE, FRBMA, who continues as the Eastern director. Mr. Saunders is the chief executive officer of Greensboro Radiology, PA. He also serves as CEO of Canopy Partners, Inc., which offers technology and management services to physician practices and hospitals. He has previously served on the RBMA board and chaired the RBMA Payor Relations Committee and Finance Committee.
Michael Gonzales, FRBMA, will serve as Western Director. He has been a member of RBMA since 1998 and has previously served on the RBMA board (2009-2011) along with numerous RBMA committees. He is a former RBMA California Chapter president (2010-2012) and currently serves as the Chapter Committee chairperson. Mr. Gonzales is the the regional revenue cycle manager of Ancillary Services for Sutter Medical Foundation, a division of Sutter Health, in Sacramento, Calif.
New director-at-large board members are Jennifer Kroken, MBA, Michael Langenberg, CPA, and Brandon Selle, MBA.
Ms. Kroken has been an active RBMA committee member and chair, speaker and RBMA Bulletin magazine contributor for more than a decade. She is a consultant and business analyst for Healthcare Resource Providers, LLC, in Albuquerque, New Mexico.
Mr. Langenberg previously served on the RBMA Alternative Payment Models Task Force and Payor Relations Committee. He is executive director of the Association of University Radiologists, PC (dba University Radiology) in Knoxville, Tenn.
Mr. Selle is a member of RBMA's Payor Relations Committee, Programs Committee, Communications Committee, and Membership Committee. He is practice administrator for Northeast Missouri Imaging Associates in Hannibal, Mo., as well as an administrator of a billing company serving this group and a manager for a portable x-ray company.
The Radiology Business Management Association is a national not-for-profit association providing members with applied business information and intelligence applicable in any radiology setting. The RBMA has approximately 2,300 members involved in various management capacities in private practices, academic radiology groups, imaging centers and hospitals. The RBMA continues to be recognized as the leader for radiology-specific educational programs, products and services, publications and data. Fellows of the RBMA (FRBMAs) must meet extensive membership and service requirements to the Association and the field of radiology making it one of the most prestigious designations in radiology business management. Learn more about the RBMA leadership at rbma.org/About_RBMA.