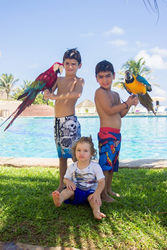 We look forward to meeting you and your children!
New York, NY (PRWEB) July 06, 2015
The time to register young children for All My Children's summer program is limited. Families can still get in by contacting their center. Learn about All My Children's enriching summer program. The All My Children Summer Camp Program offers a unique summer experience. Water play is very much a part of the program, and All My Children has water sprinklers set up for the younger children while the older children can take advantage of the Olympic-sized pool. They prepare picnics on-site and go on field trips to places like Alley Pond Environmental Center, L.I. Children's Museum, and Hot Skates. Kids will enjoy arts and crafts activities, and sports/games to enhance their educational development. They provide a healthy and nutritious breakfast, lunch, and snacks. To make the children's commute easier, the school offers door to door transportation.
All My Children Daycare hopes local families will join them for a tour of their facilities and summer activities.
Parents can also inquire about enrollment for the fall school and daycare at their environmentally conscious facilities throughout Brooklyn, Queens, and Manhattan. Meals are provided. Staff is highly experienced. Every child is given personal attention and is encouraged to be creative.