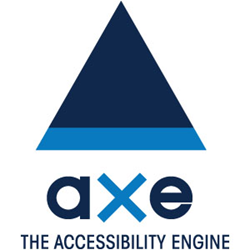 Herndon, VA (PRWEB) June 10, 2015
Deque's award-winning accessibility rules engine, aXe, is now open source and available for download. aXe (The Accessibility Engine) is a JavaScript library that includes more than 15 years of industry-leading accessibility research and best practices to yield superior automated test results.
For the first time, accessibility experts can stop duplicating efforts and work from a common set of rules. Developers and testers can quickly get consistent, reliable, and meaningful results that are actionable. Automated accessibility testing results become easy to understand, extend, and integrate.
aXe is open source and available on GitHub. This small client-side JavaScript library makes integration into any development and testing tool simple and quick. Use aXe with any JavaScript framework and any modern browser.
Preety Kumar, a pioneer in automated accessibility testing and the founder and CEO of Deque, states, "As many organizations that we encounter are expanding their use of automated testing in web development, they end up wasting money performing accessibility testing separately from their general web testing. Not only is the 'orphan process' a problem, the results are mostly false-positives. They cannot find an accessibility test library that is easy-to-integrate and returns zero false positives. These two factors greatly increase the cost of implementing accessibility. We believe aXe and our continued support will respond to this need and will win the support and contributions of a broad community of developers.
Deque's mission is digital equality. If we are to achieve that mission together, we need to take a new approach. Our community goal is to create the most trusted set of accessibility rules anywhere. We invite cooperation rather than competition."
Deque has been invited to contribute the aXe open source library to the W3C WAI Evaluation and Repair Tools Working Group, as work is under consideration there for a normative set of rules for evaluating WCAG 2.0 conformance.
Learn more at http://www.deque.com/products/aXe