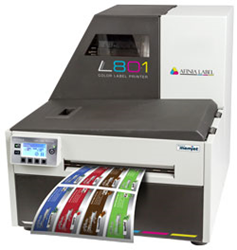 In many cases, our products pay for themselves in a few months.
Chanhassen, MN (PRWEB) June 12, 2015
Narrow web label printing system leader Afinia Label announced today that they will be showing their eJuice Label Printing, Slitting, and Application Solution at Vapor Expo International in Chicago, IL from June 17 – 18 in booth 510. Their complete eJuice label solution combines the Afinia Label L801 Digital Label Printer, SR100 Slitter-Rewinder, and A300 Label Applicator. Afinia Label will also be showing the Epson ColorWorks™ C3500 Color Inkjet Label Printer.
"We will have a very strong product presence at Vapor Expo this year," said Mike Atkins, Afinia Label's National Sales Manager. "We will be showing our eJuice label printing, slitting, and application solution. This combination is one of the industry's fastest and lowest-cost, end-to-end label solutions. In many cases, our products pay for themselves in a few months. That's because of our significantly lower ink and operational costs."
The Afinia Label L801 is powered by Memjet technology, which gives it a print speed of 60 feet per minute and an industry-leading ink cost of less than a penny for a 1" x 2" eJuice label with 75% coverage. This is much less than the cost of other inkjet label printers. The L801 supports 3 print modes: Roll to Roll, Roll to Cut, Print & Hold.
Atkins continues, "A challenge faced by eJuice industry practitioners is printing labels, one-at-a-time, on small inkjet printers. 1" x 2" (15mL) eJuice labels can be printed seven-at-a-time (2,500 per minute) on the Afinia L801 and then slit into individual rolls at almost 200 feet per minute with our SR100 Slitter-Rewinder. Once your labels are on rolls, they can be applied to eJuice bottles with consistent accuracy using the Afinia Label A300 Label Applicator."
The Epson ColorWorks™ C3500 Color Inkjet Label Printer is an excellent option for those interested in high-mix, low-volume label applications. The C3500 uses pigment inks, and can print labels from 1.2" – 4.4" wide, at speeds as fast as 4 inches/second. With the correct stock, the C3500 meets BS5609 certification for GHS labels.
Afinia Label emerged as a digital label printing system leader in 2012 when they collaborated with Memjet to create a commercially viable narrow web label printing solution. Afinia Label is now one of the largest distributors of Memjet-based label printers in the world.
Afinia Label is a division of Microboards Technology LLC, is a leader in specialized printing solutions. Their twenty-year history includes leadership in disc duplication, 3D printing and, most recently, digital label printing. More information can be found at http://www.AfiniaLabel.com, Twitter or by phone at 1.888.215.3966.