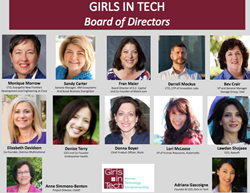 "We're confident that our hand-picked selection of new Board members will carry our organization to new heights," says CEO and Founder of Girls In Tech, Adriana Gascoigne.
SAN FRANCISCO, CA (PRWEB) June 11, 2015
Girls in Tech, an organization focused on empowerment, engagement, and education of women in technology, announces the appointment of ten new outstanding business leaders to its Board of Directors. All ten members are CEO's or Senior Executives in their field.
The new Girls in Tech board members are:
1. Monique Morrow, CTO, Evangelist New Frontiers Development and Engineering at Cisco
2. Sandy Carter, General Manager, IBM Ecosystems and Social Business Evangelism
3. Fran Maier, Board Director of G.E. Capital Bank, Founder of TRUSTe, and Co-Founder of Match.com
4. Darrell Mockus, CTO, CPP Innovation Labs
5. Bev Crair, VP and General Manager, Storage Group, Intel
6. Elizabeth Davidson, Co-Founder, Diamius Multinational
7. Denise Terry, CEO and Co-Founder, EmbraceHer Health
8. Donna Boyer Chief Product Officer, Blurb
9. Lori McLeese, VP of Human Resources, Automattic
10. Lawdan Shojaee, CEO, Axosoft
These ladies will be bringing their skill sets and tenured expertise to the table-- encouraging and enhancing current Girls in Tech programming, creating greater brand awareness, growing multiple chapters all around the world, helping drive fundraising campaigns, offering guidance on key operational management tasks, bringing major real time issues and opportunities within tech to the forefront, and of course, advocating the Girls in Tech brand and mission!
Lots of work ahead but nothing this group can't handle. Stay connected with Girls In Tech on Twitter @GirlsinTech Facebook /GirlsinTech/, and Linked In /in/girlsintech.