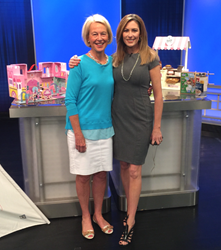 Your experience with kids and expertise makes this award especially unique and important for us. Children and their learning are at the center of what we do -- we are most proud to have an expert like you approving the educational value in our products
Southport, Connecticut (PRWEB) June 18, 2015
Play On Words LLC, led by highly respected speech language pathologist Sherry Artemenko, announces 2015's Spring PAL Award Winners, the toy industry's only recognition directed by a credentialed speech-language expert recognizing the language learning edge in exceptional toys, games and books. Sherry's 35 years of child development experience with over 15,000 hours working with kids empower her PAL selections, video reviews, popular blog, media appearances, private and consulting practice.
"I'm excited to see companies taking a closer look at their products to find the language learning potential in play. As the demand to build STEM skills and social/emotional learning increases, companies see the strategic value of language learning in toys and games, and aligned requirements to strengthen vocabulary and effectively articulate concepts. Leveraging the PAL Seal and promotional videos, for global enterprises and start-ups alike, differentiates companies who know the marketplace now demands products that are not only fun, but also packed with learning potential. Teaming with the PAL Award says just that."
Below we proudly present our Spring 2015 Play Advances Language (PAL) Award Winners by language learning category.
EARLY DEVELOPMENT: Sherry's daily experience in pediatric speech therapy gives her an eye for the best products to build attention, vocabulary and concepts through play, preparing children for their first sounds, words and sentences. While taking Mon Premier Baby Bath along for a swim at the beach, rubbing noses with Hucklebee, or setting up a play circus, kids learn essential language skills.

1-10 Puzzle by Ravensburger
Activity Playmat Ladybug by Janod
Alex Toys Ready, Set, Color and Wipe!
Colors Activity Book Owl by Janod
Hucklebee by MindWare
Jungle Buddy Shape Sorter by BKids
Mon Premier Bebe Bath Fresh Riviera by Corolle
Multikub Circus by Janod
Multikub Farm by Janod
My Pram Caterpillar by Janod
Take Along Zoo and Aquarium by Playmobil
LANGUAGE STRUCTURE AND REASONING: These outstanding products can build language structure and reasoning, often teaching vocabulary, concepts or grammar while delivering fun. Using deductive strategies to identify kids' dough sculptures, naming, discussing and stuffing worries into a Worry Eater, or making a winch for a well from an oatmeal canister all strengthen communication.
A New Friend for Marmalade by Alison Reynolds
Alex Toys USA Map in the Tub
Animals and Their Babies Puzzle by Ravensburger
Choice Words by MindWare
Disney Doc McStuffins Mix Up! Fix Up! Game by Wonder Forge
Do You Know Shakespeare? by SimplyFun
Dohdles! by Thames and Kosmos
Fireman Observation Puzzle by Janod
FrankenWords by Haywire Group
Hospital Observation Puzzle by Janod
Ideal Electronic A to Z
Koala Capers Game by Educational Insights
Listen to Clues by Hape
Maker Studio Construction Set by Thinkfun
Puzzle + App - My Favorite Horse by Ravensburger
Puzzle + App - T-Rex by Ravensburger
Resulta by Hape
Sleepytime Me by Fine and Denise
Sweet Dreams, Pout-Pout Fish by Deborah Diesen and Dan Hanna
Three Little Piggies by SmartGames
Two Speckled Eggs by Jennifer K. Mann
Worry Eaters by Haywire Group
(PRE)READING: Constructing an ABC Monster puzzle, punching out ABC's in a jungle mat, or completing words in an underwater submarine adventure, children can pick up essential skills to promote reading.
ABC Puzzle by Ravensburger
Alex Toys Jungle Fun ABC Play Mat
Busy Builder Wagon by BKids
Giant Floor Puzzle ABC Monsters by Janod
Ideal Word Speed Dice Slide
Tangram Tales by MindWare
Tiggly Words by Tiggly
STORY-TELLING / PRETEND PLAY: Whether leading a princess in her horse-drawn carriage to the palace ball, painting a teepee for pretend play, or flying a Winged Dragon through story land, children enter the world of pretend, creating their own stories with plenty of flexible props to guide their imagination. Oral story-telling precedes writing as kids learn the steps to create a good narrative.
2-In-1 Ford F-150 SVT Raptor by Step2
Bakery Shoppe Set, Furniture Fits 18" Girl Dolls by The Queen's Treasures
Beauty Belongings By Hape
Coast Guard Station with Lighthouse by Playmobil
Creative Play House by Plan Toys
Doll Table and Chairs Set for 18" Dolls by Laurent Doll
Dragon in Turret by Folkmanis
Frilled Lizard by Folkmanis
Go! Go! Smart Friends Busy Sounds Discovery Home by VTech
Grand Prix Suitcase by Janod
LEGO Duplo Airport
LEGO Juniors Pirate Treasure Hunt
Magnetic DIY Trolley by Janod
Pirate Treasure Chest by Playmobil
Princess Palace by Janod
Sammie Premium Bear by Bears for Humanity
Sea Serpent by Folkmanis
The Painting Teepee by Pacific Play Tents
Vet Clinic by Playmobil
Winged Dragon by Folkmanis
SOCIAL LANGUAGE: Complementary to pretend play, social language blossoms when children play with toys that encourage extended social interactions. Working cooperatively to win a dinosaur game, negotiating rules and teams for a baseball game or composing music and lyrics, promote social language skills.
12 Foot Kaleidochute Giant Parachute by Pacific Play Tents
Compose Yourself by Thinkfun
Dinosaur Escape by Peaceable Kingdom
Home Run Baseball Trainer by Step2
Congratulations to our PAL Winners who are listening to their markets and delivering a powerful value proposition, namely, great language learning paired with play.
Visit the Play On Words Website to see all our PAL Award winners.
Each summer billions are spent on kids' toys, games and books. These PAL winners above are not only great fun, but also encourage rich language development. Think "tastes like ice cream, fortifies like spinach," optimizing your toy purchases to build language while maintaining every bit of fun. Now's the time to be intentional about your child's toy chest, game drawer and bookshelf!
ABOUT PLAYONWORDS, LLC
Playonwords.com was founded by well-respected speech-language pathologist, Sherry Artemenko. Her 35 years championing language rich play, esteemed PAL Award, popular blog, and insightful tips to parents set her apart as the leading advocate of the language component in toys.
Over 15,000 hours working directly with children has shown her that a unique set of the best toys, games and books have the capability to develop language while delivering great play. Studies show:

Kids with highest IQs at three, had the most words at one and two
Language learning is cumulative – early words => early sentences => language and reading
Most kids maintain their verbal advantage through childhood
Sherry established the PAL Award to identify unique toys, games and books that through their design, quality and character, encourage play that advances language. PAL winners in the hands of kids, spark fun and creative play with lots of talk. Such toys, recognized on the basis of her child development expertise, are complemented by practical coaching in her blog, showing parents and caregivers how to get the most from toys, games and books to build language and underlying cognitive skills.