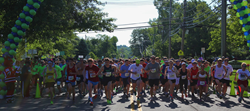 New Providence, NJ (PRWEB) June 11, 2015
A record-breaking 10,000 people helped spread the life-saving message of organ and tissue donation at NJ Sharing Network's 5th Annual 5K Celebration of Life.
There were over 300 teams participating in a 5K walk or USATF certified race, each telling a remarkable story and connection to organ and tissue donation.The theme was: To Honor. To Remember.To Give Hope.Teams honored those who passed away and gave the gift of life, and others celebrated a recipient's second chance at life. Some teams provided support and hope to those on the waiting list for a life-saving organ transplant or remembered a loved one who died while waiting for that gift of life.
Participants gathered at NJ Sharing Network headquarters for music by DBOY Entertainment, Greg T from radio station Z100 and New Jersey 101.5, face painting, dancing and other family-friendly activities.Under sunny skies, runners dashed through the streets of New Providence in the USATF-certified 5K race while others later walked the same route, some carrying signs with inspirational messages, walking hand-in-hand with children or pushing strollers.
The event has grown tremendously in just five years, raising philanthropic dollars to support research and education about organ and tissue donation, and well as programs to support donor families throughout the year.
"Beyond our fundraising, the 5K Celebration of Life gives us the opportunity to remember and honor those whose lives have been touched by organ and tissue donation, and to spread awareness about the life-saving and life-restoring gifts of donation," explained Elisse Glennon, Vice President and Chief Administrative Officer of NJ Sharing Network and Executive Director of the Foundation.
It was a day of tears, camaraderie and laughter. For many donor families, such as the Duerr family of Neptune, the day was an opportunity to honor the generous legacy of donors. Caroline Duerr died in March at the age of 17.Knowing that the teen's organs saved the lives of others has provided some solace to her family, said her mother, Kate Duerr.
"Every day is still a struggle. But knowing that another mother and father somewhere are not going through what we are going through provides us with some solace," the mother said.
One of Caroline's kidneys saved the life of a 17-year-old and the other kidney saved a young father. One of her lungs saved the life of a father of two children and her pancreas saved a 35-year-old woman. Cells from her liver were used to save babies too young for transplant.
Mary Naughton of Pompton Plains called the day full of sunshine, family and friends part of her healing process after the sudden death of her husband, Mark, who was a tissue and cornea donor. "It's wonderful to be here and share this day with people who loved Mark … and to know that someone can see because of Mark's gifts," she said.
For organ transplant recipients, the day was an opportunity to honor their donors and also to celebrate their second chance at life. Yvonne Payne of Teaneck received a heart from Sammi Kane Kraft, a California woman who died at 21. Payne said she now feels healthy and thankful.
"Being here today is my way of honoring Sammi and also letting more people know that organ donation saves lives. I am alive today because of this amazing gift," she said. She recently met her donor's family and said the meeting was "beautiful and emotional. Sammi's family has some peace knowing a part of their daughter lives on and has saved lives."
Another team, the Happy Hearts, supports Joanne Balint, who received a heart transplant in 2012. "I feel wonderful and am so grateful to my donor. All I know is that he was 38 and from North Carolina," said Balint, a long-time New Jersey resident who now lives in Port Jervis, NY. She attended the 5K Celebration of Life with her granddaughter and daughter.
David Goodman of Hewlett, Long Island, received a kidney ten years ago from Timothy P. Eland, Jr. He remembers writing to Timmy's family soon after his transplant.
"I think of Timmy every day and the gift he gave me.I go fishing and I think of Timmy. I get up in the morning and think of Timmy. I am here to honor his gift and to support his family," Goodman said.
Nina Roberts of Robbinsville, Timmy's mother, said Sunday's event was the first time her extended family had the opportunity to meet Goodman, as he walked with the 30 members of Team Timmy.
"We are so blessed to have David in our family," Roberts said, noting her extended family offered him a number of invitations to upcoming events. "He is so reverent and so appreciative of the gift of life. To say we are blessed to have him in our family is such an understated emotion."
Roberts said she is equally thankful to NJ Sharing Network, which coordinated the donated kidney. "They knew how fragile we were, and they held us by the hand and they explained everything to us in the most understanding and professional way," she said. "They helped us move toward this relationship with David and they helped give me peace."
This was the first year NJ Sharing Network's 5K Celebration of Life included two locations; the first in April at Bergen Community College in Paramus and the event Sunday in New Providence. An estimated 10,000 people attended.
Joseph Roth, president and CEO of NJ Sharing Network, told those gathered that the goal of NJ Sharing Network is to end deaths on New Jersey's organ transplant waiting list. Currently some 5,000 people in the state are waiting for life-saving organ transplants.
"It is only through the work of all of you here and all of our supporters that we can save lives and help all those who are waiting for the gift of life," Roth said.
Pfizer, Inc., was presenting sponsor for the event. NJ Advance Media, which provides content for The Star-Ledger and NJ.com, was a platinum sponsor.
To learn more about the event and sponsorship opportunities, please visit http://www.NJSharingNetwork.org.