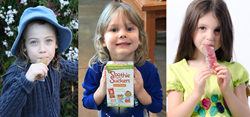 Healthy Ice Pops provide herbal supports for kids. And they taste great!
Portland, Oregon (PRWEB) June 15, 2015
Pacific NW Mompreneur, mother of five, Marietta Harrison has created unique and healthy ice pops for kids called Soothie Suckers. These pre-measured herbal remedies are formatted for children but enjoyed by adults too. A national manufacturing company has picked up the product and produces it in 3 great flavors.
Marietta says she came up with the idea because "There were no natural solutions that her children would take to help them through the cold and flu season". She went in search of natural and gentle ways to promote the health of her five children, and in doing so she discovered a world of herbs that parents have turned to for thousands of years. Tapping into that ancient wisdom, Marietta developed Soothie Suckers as a safe and fun way to keep kids immune systems strong–and as a way to empower parents to make natural and healthy choices for their children.
Soothie Suckers herbal supplements are delivered in pouches like Otter Pops and are easy for anyone to eat when they are feeling bad. They are safe, taste great, all natural, gentle, soothing and effective. They come in three flavors - Grape for Nasal support, Orange for Immune support and Cherry for Throat support. Marietta partnered with top manufacturing partners, top formulators and the best natural ingredient providers. Sold in boxes of 8 pouches and the average sale price is $8.99.
Soothie Suckers are available today on Amazon.com, iherb.com and an increasing number of stores in the Pacific NW including Whole Foods, Haggen Food & Pharmacy & New Seasons.
For more information about this topic, please call Marietta Harrison, Soothie Suckers CEO/Founder at 503 593 7727 or e-mail her at marietta(at)soothiesuckers(dot)com.
Soothie Suckers provide "Feel-Good Fun For Kids 2 to 92"!
https://www.facebook.com/soothiesuckers
https://twitter.com/SoothieSuckers
https://www.linkedin.com/company/3530112?trk=tyah&trkInfo=clickedVertical%3Acompany%2Cidx%3A2-1-4%2CtarId%3A1434055161019%2Ctas%3Asoothie%20