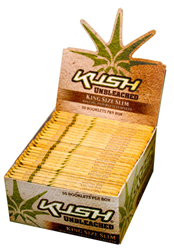 Kush Brand has the Finest Smoking Products in the market
Seattle, WA (PRWEB) June 12, 2015
Grind Distribution is happy to announce their Kush Brand of Rolling Papers and Cigarillos are the exclusive brand of Bryan 'Birdman" Williams and Cash Money Records. The full line of products, ranging from rolling papers to cigarillos, are available at http://www.grinddistribution.com and http://www.kushrollingpapers.com.
Grind Distribution is excited about teaming up with the most influential person and record label on the rap/hip hop scene to bring our premium rolling papers and cigarillos from the Kush line to consumers and enthusiasts, who have been searching for a superior smoking line of products. Whether customers prefer cigarillos or rolling papers, Grind Distribution and Kush brand have it all.
"With years of experience in the rolling paper industry, it was a great privilege to have Kush become the exclusive rolling paper and cigar brand for Birdman and Cash Money Records | Rich Gang," said Charles Bachmann, President of Grind Distribution, Inc. "Birdman being a connoisseur of the finest things in life appreciates quality products which is why he chose to partner with our Kush brand family of rolling papers and cigarillos, we knew that his association to these products just shows the quality of the product is above the rest." Grind Distribution, with its owner's years of experience in the smoking industry, partnering with Birdman Cash Money Records to help get his brand into the market was a perfect fit."
For more information about Grind Distribution visit http://www.grinddistribution.com, "follow" them on Instagram @officialkushbrand, and "follow" them on Twitter at https://twitter.com/GrindDist.
About Grind Distribution
We are manufacturers, importers and distributors with over 20 years experience in the tobacco and dispensary wholesaler market. We own many of our own factories which gives us the ability to create the most well-known and unique items world wide. Feel free to look over our products and contact us to open up a wholesale account. Of course distributors are always welcome as well. Visit Grind Distribution at http://www.grinddistribution.com.
About Cash Money Records
Since 1991, Brothers Bryan "Birdman" Williams aka "Baby" and Ronald "Slim" Williams have built Cash Money Records into a legendary force in the music industry. Through tireless devotion and an unparalleled work ethic, the duo founded the legendary label in the New Orleans housing projects and elevated it into a multimillion dollar empire and cultural tastemaker. Not only is the company revered as an iconic and enduring global street brand, it's become the most successful independent record label in America. Boasting a bevy of chart-dominating, multi-platinum artists and Grammy Award winners and cumulative sales over 100 million albums worldwide, the roster includes Lil Wayne, Drake, Nicki Minaj, Tyga, Juvenile and more. In addition, it houses Lil Wayne's imprint Young Money Entertainment as well as a publishing arm Cash Money Content. Cash Money Records is distributed by Republic Records part of Universal Music Group, the world's largest music company