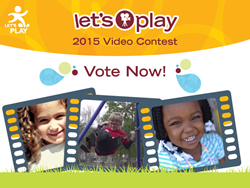 PLANO, TEXAS (PRWEB) June 17, 2015
Ten communities have the chance to receive new playground equipment courtesy of Dr Pepper Snapple Group's (DPS) Let's Play initiative and KaBOOM!. Five $20,000 playground build grants will be awarded in this year's Let's Play Video Contest, and it's up to the public to choose the winners.
From June 15 through June 26, users can vote once per day for any of the 10 finalists posted in a special voting app on the Let's Play Facebook page. Five finalists with the greatest number of votes at the end of the voting period will each win a $20,000 Let's Play grant to help bring play to their communities.
Schools, organizations and communities all across the country submitted video applications to Let's Play during the month of April explaining why they need a new playground. Many applicants are located in lower-income areas that lack safe places for children to play. The applicants were narrowed down to a group of 10 finalists by a panel of judges from Dr Pepper Snapple and KaBOOM!.
"These groups are all passionate about bringing more play to their communities. We're excited to offer the Let's Play Video Contest as an opportunity for them to rally support behind their efforts to create a great place to play for their kids," said Vicki Draughn, Vice President of Corporate Affairs at DPS.
Winners will be notified by DPS and KaBOOM! shortly following the conclusion of the voting period and will have one year to plan and complete their playground.
This is the fifth year Dr Pepper Snapple and KaBOOM! have partnered to bring the Let's Play Video Contest to life. Through Let's Play, DPS and KaBOOM! have built or improved over 2,200 playgrounds across North America since 2011, benefiting more than 5 million kids.
About Let's Play
Let's Play is an initiative launched in 2011 by Dr Pepper Snapple Group to provide the tools, places and inspiration to make play a daily priority. By 2017, DPS will provide nearly 10 million children across North America with new opportunities to play and be active through Let's Play. In partnership with the nonprofit organizations KaBOOM! and Good Sports, Let's Play is working to eliminate the 'play deficit' by building and improving play spaces and providing grants for athletic equipment and gear.
About Dr Pepper Snapple Group
Dr Pepper Snapple Group (NYSE: DPS) is a leading producer of flavored beverages in North America and the Caribbean. Our success is fueled by more than 50 brands that are synonymous with refreshment, fun and flavor. We have 6 of the top 10 non-cola soft drinks, and 13 of our 14 leading brands are No. 1 or No. 2 in their flavor categories. In addition to our flagship Dr Pepper and Snapple brands, our portfolio includes 7UP, A&W, Canada Dry, Clamato, Crush, Hawaiian Punch, Mott's, Mr & Mrs T mixers, Peñafiel, Rose's, Schweppes, Squirt and Sunkist soda. To learn more about our iconic brands and Plano, Texas-based company, please visit DrPepperSnapple.com. For our latest news and updates, follow us at Facebook.com/DrPepperSnapple or Twitter.com/DrPepperSnapple.
About KaBOOM!
KaBOOM! is the national non-profit dedicated to giving all kids – particularly those growing up in poverty in America – the childhood they deserve filled with balanced and active play, so they can thrive. Since 1996, KaBOOM! has collaborated with partners to build, open or improve nearly 16,300 playgrounds, engaged more than one million volunteers and served 8.1 million kids. KaBOOM! creates great places to play, inspires communities to promote and support play, and works to drive the national discussion about the importance of play in fostering healthy and productive lives. To learn why #playmatters: visit kaboom.org or join the conversation at twitter.com/kaboom or facebook.com/kaboom.