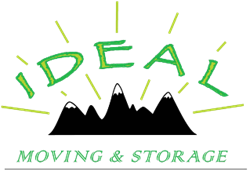 Find out why we're one of Denver's best moving companies!
Denver, CO (PRWEB) June 11, 2015
A leading Denver moving company, Ideal Moving And Storage has added more large box trucks to their moving fleet. The new trucks are 24' and larger. With extra storage space, these Denver movers can handle extra-large homes and full commercial moves. The larger, more spacious trucks can also help save time and money with fewer trips required. Their trained movers carefully pack, wrap and box all items to ensure breakage doesn't occur.
Those that are looking for professional movers in Denver will want to check out this locally owned, BBB accredited business. They are a family business, and have movers that pride themselves on a job well done. When it comes to finding the right moving company, it's important to know the movers will take good care of the belonging and be efficient.
Knowing how to properly pack a truck and pack boxes is crucial. A messy move can result in broken belongings and unwanted stress. Ideal Moving And Storage is a company that's dedicated to great customer service and high satisfaction rates. Their movers are trained on proper moving and packing techniques. They come on-time and prepared with boxes, wrap, padding and dollies.
According to the company, they always have several promotional offers going on for shoppers that are wanting to find discounted moving services in the Denver metro area. They also have an on-site indoor storage facility located in Commerce City, CO that has twenty four hour security monitoring and climate control.
Customers can choose to store their possessions in wood crates, that can be securely shut until needed. These are perfect for small furniture, boxes and other household or business items that need to be stored away. In addition, for one of their current specials, clients can get an entire month of storage at no cost with a six month commitment.
Those that are planning a move in the metro area should check out their website to get several moving tips and ideas on how to best prepare for a move. Being prepared is half the battle. Having an organizational plan, good packing, thoughtful movers and an affordable price can actually make moving a pleasant experience. Please visit http://www.professionalmoversdenver.com or call a representative at the phone number provided herein this article.
Matthew Oliver
info(at)professionalmoversdenver(dot)com
720-638-9870