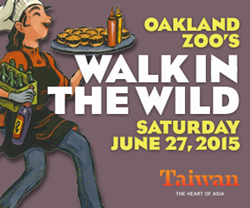 Oakland, CA (PRWEB) June 11, 2015
**FOR IMMEDIATE RELEASE**
Thursday, June 11, 2015
Oakland Zoo's 23rd Annual Fundraiser, Walk in the Wild is on June 27, 2015, from 5:00pm – 10:00pm. The Private Patron Party will take place from 4:00pm – 6:00pm at Oakland Zoo's Snow Building. Now in its twenty-third year, Walk in the Wild - An Epicurean Escapade! is a premier fundraising event.
***Media Advisory: If you plan on covering the Patron Party or Walk in the Wild event, please contact Nicky Mora, Senior Manager of Marketing/PR at (510) 632-9525, ext 130 or nmora(at)oaklandzoo(dot)org. We must have confirmation by Thursday, 6/25. All media must be listed on the event press list.***
More than 120 restaurants, caterers, bakeries, wineries, and breweries are onsite at Oakland Zoo – offering delicious samples of the San Francisco Bay Area's finest food offerings (see vendor and libations list below). With each reservation, guests receive a commemorative wine glass and butler tray to try samples of superb culinary cuisine paired with fine wine, beer, and specialty drinks.
Reservations start at $150 per person. All proceeds from this adult-only engagement help Oakland Zoo provide the highest quality animal care and exhibits, supporting the protection of endangered species worldwide, and delivering impactful education programs that aim to inspire the next generation of conservation leaders. Visit oaklandzoo.org and click on Walk in the Wild for more information or to make reservations. Contact the Zoo directly at 510-632-9525 ext 154. Due to the service of alcohol, all guests must be 21 years of age or older.
Oakland Zoo's Walk in the Wild event is sponsored by Taiwan, the Heart of Asia. Praised by The New York Times as the "island of green in Asia," Taiwan has been devoting tremendous efforts and resources into the development of Green Tourism. Nature and wildlife conservation is the driving force behind Taiwan's infrastructural development that links tourists to Taiwan's wilderness - the home to the world's highest concentration of butterfly and bird species as well as a protected habitat for the critically endangered Taiwan Formosan Black Bear and white dolphins. As an avid supporter of animal conservation, Taiwan Tourism Bureau San Francisco Office is extending their efforts in the U.S. through their collaboration with Oakland Zoo. Besides their contribution to our annual fundraiser, Taiwan Tourism Bureau's Oh!Bear mascot aka Moon bear, will greet guests during Walk in the Wild, along with an art installation of a giant Xiao Long Bao and Bubble Milk Tea in the Wayne and Gladys Valley Children's Zoo. Information about Green Tourism in Taiwan will also be available.
Private Pre-Event for Patrons and Sponsors:
4:00pm - 6:00pm: It's a themed party, "California Dreaming," in the Snow Building. Festivities will include special appearances from the Zoo's animal ambassadors, live music, specialty cocktails, Zoo update from the President and CEO, Dr. Joel Parrott, and the opportunity to get a head start on the Walk in the Wild festivities. Honorary Host Liam Mayclem. Event by Dalton Fine, So Fine Event Design. Catering by La Bocca Fina.
Evening Activities:
5:00pm – 8:00pm: Wine and Dine on a walking safari through Oakland Zoo to discover some of the Bay Area's finest epicurean offerings. The evening is filled with great company, animals, and live entertainment. This year's performers will appeal to many musical tastes, including jazz, country, Latin rhythms, percussion, and hit songs from music of today.
8:00pm – 10:00pm: End the evening on a sweet note with dancing and dessert at sunset in Adventure Landing. Returning by popular demand, Take 2 (TK2) is dynamic 7-piece band covering chart toppers in Rock, Country, Hip Hop, R&B, and Pop.
Vendors and Libations:
21st Amendment Brewery
A16 Rockridge
alaMar Kitchen & Bar
Ale Industries
Ballast Point Brewing and Spirits
Barefoot Wine & Bubbly
Bear Republic Brewing Co.
Bijou Restaurant & Bar
Bison Brewing Company
Bordenave's Bakery
Calicraft Brewing Company
Catered To You
Charles Krug Winery
Charles Krug Winery
Christine's Upper Crust Pies
Comebuy
Concannon Vineyard
Conduit Wine
Cookiebar Creamery
Crogan's Montclair
Dashe Cellars
Dickson Napa Ranch
Drakes's Brewing Company
Eat Drink Be Merry Catering Co.
El Agavero Restaurant
E.J. Phair Brewery & Alehouse
E & O Asian Kitchen
Elliston Vineyards
Imagine Affairs
Faction Brewing Company
Faz Restaurants
Fenestra Winery
Fentons Creamery
Firestone Walker Brewing Company
Fiscalini Cheese Company
Flavor Brigade Italian Ice
Fusion Jerky
Guadalajara Restaurant
Ghirardelli Chocolate Company
Gourmet Xpress
Holly's Mandarin
Home of Chicken and Waffles
Honest Tea
Hopper Creek Winery
Horatio's
Englander Sports Pub & Restaurant
Irish Monkey Cellars
Italian Colors Ristorante
J. Lohr Vineyards & Wines
Jeff Cohn Cellars
Keena's Kitchen
Kincaid's Bayhouse
La Bocca Fina Catering
Ladyfingers Bakery
Lagunitas Brewing Company
Lava Pit Hawaiian Grill
Linden Street Brewery
Line 51 Brewing
Little Valley Winery
Market Smart Inc.
Marley's Treats
Mendocino Brewing Company
Mercy Vineyards
Mika's Cupcakes
Mill Creek Vineyards & Winery
Montibella Sausage Company
Murrieta's Well Winery
New Belgium Brewing Company
Nothing Bundt Cakes
Numi Organic Tea
Oakland Brewing Company
Oakland Zoo Island Café
Old Towne Danville Bakery
Oliveto Cafe & Restaurant
Otaez Mexican Restaurant
Otaez Taqueria
Ozumo Restaurant
Pacific Coast Brewing
Peter's Kettle Corn
Pizza Antica
Play Cafe
Portales Taqueria
Red Boy Pizza
Retzlaff Vineyards
Rock Wall Wine Company
Roland Rosario Cellars
Rosamunde Sausage Grill
Rosenblum Cellars
S. Martinelli & Company
Safeway
Salud Cocktails & Co.
Scott's Seafood - Jack London Square
Semifreddi's
Sierra Nevada Brewing Company
South City Cider
Speakeasy Ales & Lagers
Specific Gravity Cider
St. Francis Winery & Vineyards
Stella Artois
Steven Kent Winery
The Stroopie Gourmet
Swiss Delices Bakey
Sysco, San Francisco
Tacos El Novillo
Tacos Guadalajara Taco Truck
Tag & Jug Cider Co.
The Terrace Room
ToliverWorks Food
Trader Joe's, Rockridge
Treasure Island Wines
Triple Rock Brewing Co.
Trumer Brauerei
Urban Legend Cellars
Wani's Market
Weibel Family Vineyards and Winery
Wente Vineyards
Whole Foods Market - Oakland
World Ground Café
Wood Tavern
ABOUT OAKLAND ZOO:
The Bay Area's award-winning Oakland Zoo is home to more than 660 native and exotic animals. The Zoo offers many educational programs and kid's activities perfect for science field trips, family day trips and exciting birthday parties. Oakland Zoo is dedicated to wildlife conservation onsite and worldwide. Nestled in the Oakland Hills, in 500-acre Knowland Park, the Zoo is located at 9777 Golf Links Road, off Highway 580. The East Bay Zoological Society (Oakland Zoo) is a nonprofit 501(c)3 organization supported in part by members, contributions, the City of Oakland and the East Bay Regional Parks. For more information please visit our website at http://www.oaklandzoo.org.
###