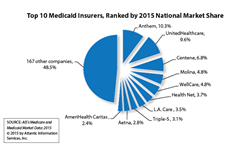 (PRWEB) June 11, 2015
In-house researchers for Atlantic Information Services, Inc. (AIS) have found that Anthem, Inc. was the country's top Medicaid insurer as of first quarter 2015. With nearly 4.8 million lives representing 10.27% of the national market, Anthem edges out UnitedHealthcare, which had 4.47 million enrollees and 9.59% market share as of early 2015. Centene Corporation, Molina Healthcare, Inc. and WellCare Health Plans, Inc. round out the top five. Complete findings will be published in the forthcoming AIS's Medicare and Medicaid Market Data: 2015, shipping later this month.
Health Net, Inc.'s California Medicaid plan had the highest enrollment of any Medicaid plan in the United States, with 1.63 million, according to AIS researchers; its closest competitor is also a California plan, L.A. Care, which had 1.61 million enrollees as of the first quarter of 2015. California — the most populous state — has the most Medicaid enrollees at 10.2 million. This represents an increase of 52% from the end of 2013, reflecting the state's managed Medicaid expansion efforts.
Researchers also found that Medicaid enrollment in the U.S. as of the first quarter of 2015 grew by almost 11 million from the fourth quarter of 2013, representing the impact of the Affordable Care Act's Medicaid expansion initiatives. Enrollment grew by more than two million since AIS's 2014 mid-year Medicaid update.
A valuable resource with information on rates, benefit designs, enrollment, contacts, trends and strategies on the Medicare Advantage, Medicare Part D and managed Medicaid programs, AIS's Medicare and Medicaid Market Data: 2015 tracks the enrollment trends, plan design information and market share statistics required for an effective strategic planning process. Visit http://aishealth.com/marketplace/managed-medicare-and-medicaid-market-data for more information, including sample pages and a table of contents.
About Atlantic Information Services
Atlantic Information Services, Inc. (AIS) is a publishing and information company that has been serving the health care industry for more than 25 years. It develops highly targeted news, data and strategic information for managers in hospitals, health plans, medical group practices, pharmaceutical companies and other health care organizations. AIS products include print and electronic newsletters, websites, looseleafs, books, strategic reports, databases, webinars, and conferences. Learn more at http://AISHealth.com.