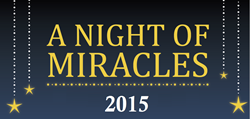 These are not just keys to a front door. They're keys to a brighter future.
Denver, CO (PRWEB) June 11, 2015
The Night of Miracles has become a tradition at Zunesis. The event, which will be held at the Colorado History Museum on Friday, November 14, 2015, will feature the entire Zunesis team along with their valued business partners; the local Habitat for Humanity team; and most of all, a well-deserving family who will receive the keys to their new home at the climax of the event.
More than eight years ago, the team at Zunesis decided that they wanted to give back to their community in a meaningful way. In order to do this, they decided to vote on a single non-profit in the Denver area that they would commit their full support to for many years to come. Habitat for Humanity was the organization that was selected; and Zunesis has followed through on their commitment to heavily support this organization through financial donations, volunteer hours, and the Night of Miracles.
As Zunesis became more and more involved with Habitat over the years, they realized that supporting this organization was something that needed to be contagious. The Night of Miracles started as a dream – a dream for Zunesis to bring their corporate partners, clients, individual employees, and friends alongside them in the effort to change the world through Habitat. Generous donations from each of these groups have combined over the last three years to make the annual Night of Miracles possible.
The goal of the Night of Miracles has always been to build a home for one hard-working family in Denver. Per Habitat's program in which one home is built internationally for each home that is built domestically, this means that the Night of Miracles has raised funds for six homes in the past three years. This year, the bar has been raised; and the Zunesis team is committed to a goal of raising funds for two homes in Denver, four total. Undoubtedly, this is a lofty goal; but Steve Shaffer, CEO and President of Zunesis, is confident that his team is up to the challenge.
The evening itself will be a black tie event consisting of cocktails, dinner, and access to the museum's exhibits. Guests will hear about Habitat's mission; and, most importantly, they will witness their donations change a family's life as the keys to the new home(s) are given to the new homeowners. Primarily, the Night of Miracles is a celebration of what people, when they work together, can accomplish.
For more information or to get involved with the Night of Miracles, please visit our website.