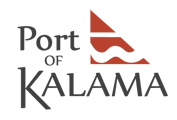 The last year Port of Kalama has seen remarkable growth and business successes and now those stories will be available at one resource.
Kalama, Washington (PRWEB) June 11, 2015
The Port of Kalama this week launches a new website to enhance its showcase of available industrial properties, news, events, public recreational opportunities and comprehensive public information about the Port's contributions to the region. With a recent stream of new businesses locating at the Port and the opening of the new Haydu Park coming in July, Port officials wanted to provide additional at-the-fingertip access to information for both business and the local community.
New site reports Port news as it happens
The last year Port of Kalama has seen remarkable growth and business successes and now those stories will be available at one resource. Recent news at the Port of Kalama can be found at http://www.PortofKalama.com:

Temco completed a $200 million renovation of their grain elevator;
The Port managed the construction of new Administrative Offices and Interpretive Center;
The Port also began construction of Haydu Park, baseball, soccer, tennis courts, basketball courts and expo area – the first phase of development at the recently annexed East Port;
Infrastructure development underway for multi-use Spencer Creek Business Center for a mix of light industrial, office, commercial and retail uses;
The Port completed an agreement with Northwest Innovation Works to build a $1.8 billion natural gas to methanol conversion facility that is expected to create approximately 200 new jobs when completed;
Companies like Depin Inc., Rainier Truck and Trailer and Christiansen Enterprises move into industrial facilities.
"This new site really enhances our ability to communicate with both businesses and our local community, which is a key component of our public information strategy," says Randy Sweet, president, Port of Kalama Board of Commissioners. "We think businesses will find all of the information they need about our location, properties, amenities, incentives and more, while the general public will find information about parks, the marina and recreational opportunities. The site helps to fulfill our mission as a public organization."
About Port of Kalama – Where rail and water meet
The Port of Kalama is located in Southwest Washington on the Columbia River and immediately off of Interstate Highway 5. The port exists to induce capital investment in an environmentally responsible manner to create jobs and to enhance public recreational opportunities. Port of Kalama's industrial area includes five miles of riverfront property adjacent to the 43' federally-maintained deep draft navigation channel of the Columbia River. The Port is served by the Burlington Northern/Santa Fe and Union Pacific railroads. There are over 25 businesses located at the Port of Kalama, employing over 850 people. Port of Kalama offers all the superior facilities businesses need to thrive, and an unsurpassed quality of life. The port offers shovel ready sites, a new Industrial Park, state of the art Marine Terminals and transportation accessibility to rail and highway all just a 30 minute drive to the Portland International Airport. Port of Kalama also offers high-bandwidth communications, with dual access fiber-optic service to Seattle and Portland. Properties currently available at the port for businesses wishing to expand and thrive: Visit http://portofkalama.com/industrial_property.
Contact: Liz Newman, marketing manager, Port of Kalama, 360-673-2379 or Claudia Johnson, PR, 503-799-2220.