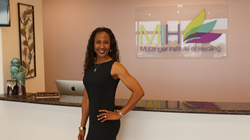 Attendees will hear firsthand from some of the field's top presenters
Hederson, Nevada (PRWEB) June 11, 2015
The NeuroLipid Research Foundation is holding an intensive clinical course on Membrane Medicine June 11th -14th in Henderson Nevada. This year, the Matzinger Institute of Healing - located at 3031 West Horizon Ridge Parkway, Henderson, NV 89052 - is the proud host of the conference. Attendees will hear firsthand from some of the field's top presenters. Offered in two parts over 4 days, experts will share from the clinical perspective and the academic side of the topics. The program is offered for Health Care Professionals only.
Membrane Medicine Clinical Day –
Microbiome Biomedical Colonic - On June 11, 2015 Virginia Marston, RN ND presents a full day session. Attendees will have the unique opportunity to "experience and learn about optimizing the microbiome by biohacking bio film and resetting "Second Brain" function."
Membrane Stabilizing Keto Therapy for Seizures - participants can attend a full day session with NueroLipid Research Foundation Director, Patricia Kane, PD, Carolyn Matzinger, MD of Matzinger Institute of Healing, and Carrie Loughran RD. Presenters will address the "Application of the Membrane Stabilizing Therapy for seizure disorders" including super-refractory status epilepticus. This course is open to dieticians and licensed medical professionals.
Membrane Medicine Academic Symposium
The academic portion of the conference continues Friday, Saturday and Sunday June 12-14 with scheduled notable speakers including: Carolyn Matzinger, MD, Patricia Kane, PhD, Edward Kane, Katrin Bieber, MD, Meinrad Milz, MD, Kristine Gedroic, MD, Virgina Marston, RN, ND, Glenn Taylor, Damien Downing, MD Kara Nakisbendi, MD and Ralph Holsworth, Jr., DO. For complete details about the schedule, download the brochure here
About Matzinger Institute of Healing
Henderson Nevada based Matzinger Institute of Healing is a medical and healing center that provides a comprehensive Total Body Wellness Program that will leave patients feeling satisfied, understood, and fully relieved regarding the care of their health. Our core competency is to diagnose and treat patients from the perspective of cellular therapy including stabilization of the cell membranes. The premise of MIH is to re-create total health, not just treat symptoms. MIH addresses key components in the optimization of health which include balancing of Nutritional status, Hormone and Fatty Acid Homeostasis and balancing; emphasis on the Gut-Brain Connection with treatment of inflammation and various conditions of the Gut; additional areas of focus will include the effects of Adrenal Fatigue as it relates to health issues and Detoxification modalities. MIH also offers Plasma Rich Platelet as the next phase in Total Body Wellness and Rejuvenation of overall health. MIH is also a provider of CoolSculpting. For more information visit their website at mih.vegas