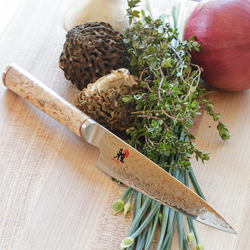 "It's a real pleasure to have German engineering with Japanese craftsmanship."-Bob Kramer, master bladesmith
Cambridge, MA (PRWEB) July 09, 2015
Independent homewares store Didriks has expanded their knife offerings to include Miyabi and Bob Kramer knives, two stunning ranges that combine German steel with Japanese craftsmanship to create blades of superb quality. Both ranges are inspired collaborations with premium cutlery giant Zwilling J.A. Henckels, using advanced technology and hand finishing to create high-performance blades in their factory in Seki, Japan.
Zwilling J. A. Henckels partnered with American master bladesmith Bob Kramer to develop balanced, powerful knives with excellent craftsmanship. His trademark wide blades and large handles are ideal for those prefer greater clearance or have large hands. Kramer's designs are executed in both carbon steel and damascus stainless steel, both materials designed to hold and maintain a razor-sharp edge.
The Miyabi range consists of several collections in both Asian and hybrid styles, each inspired by a prominent Japanese chef. For traditional Asian silhouettes try the Birchwood SG2 and Kaizen collections, both featuring 101 layers of damascus steel and an elegant round handle. For hybrids, Japanese blades with a western grips, look at the Pro, Fusion, and 600S Red collections.
Whatever the task, these ranges offer a knife that is sure to become a favorite. Collections from both ranges are now available in store and online at didriks.com.
About Didriks
Didriks showcases fine outdoor furniture, tableware and home decor products sourced from the United States and Europe. Online at Didriks.com.
Didriks is located at 190 Concord Ave. on Observatory Hill in Cambridge and at The Mill at Newton Lower Falls, 2284 Washington St.