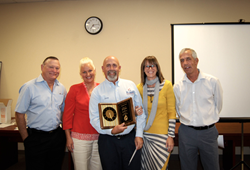 Doug's quality of work is the best in the industry.
(PRWEB) June 11, 2015
Bill Howe Plumbing has a distinguished history of offering high quality plumbing, heating and air conditioning, restoration and flood services. For 35 years, they have led the industry in technician training, quality San Diego plumbing services, and commitment to giving back to the community, the very tenets of their company mission-successful employees, the best in home services and customer as top priority and a pay-it-forward spirit in through volunteering and charitable contributions.
Bill Howe began operations in San Diego as AM/PM Sewer & Drain Cleaning in 1980. His first headquarters were located in a small Pacific Beach studio apartment until 1990. When he began to expand and hire additional employees, he moved to 1813 Morena Blvd and grew with several talented journeyman plumbers.
Doug Bock was one of the first five field techs to join Bill Howe Plumbing over 20 years ago this month. He is still one of the most gifted employees within the company, often being called on to consult on challenging jobs because of his vast knowledge of the industry and specific plumbing code. From obscure plumbing parts to new construction, Doug is the go to San Diego plumber.
This is not the first 20 year anniversary the Bill Howe Family of Companies has celebrated through the years. Of the 150 employees across three divisions, the company has seen many employees continue beyond their 20 years, and will get to recognize several more over 20 percent of the company with 10 or more years of loyal service. "When we bring someone on to our team, we want them to grow with us," said Bill Howe, President of the Bill Howe Family of Companies. "They become our family, and we do everything to keep them, make them happy and help them to succeed in their professional and personal lives."
"Doug's quality of work is the best in the industry," said Bill Haws, General Manager of Bill Howe Plumbing, Inc. "I go to Doug when I have questions about plumbing code; his understanding and knowledge of his trade is nothing short of amazing."
Doug was celebrated at the June company meeting on June 10, 2015. He received the customary 20-year bonus check and specially engraved clock; significant gifs that Bill & Tina Howe have presented to all 20-year veterans.
For more information about the San Diego plumbing company, visit http://www.billhowe.com, or to speak with Bill or Tina Howe regarding this announcement, contact Bill Howe Marketing Director, Julie Riddle at Julie(at)billhowe(dot)com.
About Bill Howe Family of Companies
Bill Howe Family of Companies is comprised of Bill Howe Plumbing, Inc.; Bill Howe Heating & Air Conditioning, Inc.; Bill Howe Restoration & Flood Services, Inc. The family-owned and operated company began in 1980 with the plumbing division and has grown into San Diego County's largest low-cost one-stop-shop for service, repairs and installation, offering both residential and commercial services. 9085 Aero Drive, Suite B, San Diego CA 92123. Call 1-800-BILL-HOWE because We Know Howe!
###