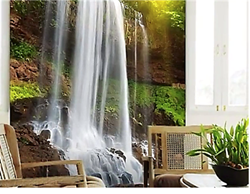 For the ultimate in interior design, create instant impact, mood enhancing environments and complete sensory immersion by printing personal artwork on Sunrise's tailor made custom wallpaper
Chicago, IL (PRWEB) June 19, 2015
Want to make maximum impact in any living space? Sunrise Hitek's stunning wallpaper can be produced to fit any wall. For the ultimate in interior design, create instant impact, mood enhancing environments and complete sensory immersion by printing personal artwork on Sunrise's tailor made custom wallpaper https://www.sunrisehitek.com/product/wallpaper. Choose from Economical Repositionable Self-Adhesive Vinyl, super easy to install Self-Adhesive Wall Fabric, or long life Heavy-weight 20oz Osnaburg wallpaper (installed with standard wallpaper paste).
Customers can turn their favorite artwork into permanent decor in their home or office. Whether it is a single room, or an entire store, Sunrise can make it a reality. Their wallpaper is printed using 6-color solvent fade-resistant inkjet printing for best image quality. Being a G7 Qualified Master Printer, Sunrise Hitek adheres to the strictest quality standards for unmatched color accuracy and consistency. When they create the wallpaper for a large space, the entire wall length is divided into manageable vertical strips for ease of installation. Sunrise manages extensive calibration and color management to keep color consistent between strips for a seamless finish from one wall to the other. Custom wallpaper is a quick and easy way to make a space unique and memorable. Sunrise offers a superb product with turnaround times as fast as 48-hrs or even less.
About Sunrise Hitek Group, LLC.
Sunrise Hitek https://www.sunrisehitek.com/ is an Inc. 5000 company established in 1988 and employs the most advanced equipment and technology, such as G7-certified HP Indigo and UV flatbed presses, laser engraving, and digital die-cutting, to create best-in-class color printing, short-run packaging, P.O.P. retail displays, and signage products. A privately-owned enterprise, the company is based in Chicago and sells products worldwide.