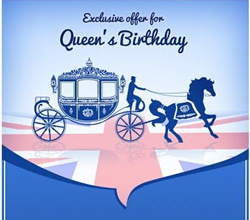 Atlanta, Georgia (PRWEB) June 13, 2015
For all British people out there, the Queen's birthday is a great celebration opportunity. Her Majesty's Parade is the ceremony that gathers people's joy and pride. But what happens after leaving United Kingdom and moving abroad? People may still join the celebration by calling home. To help them talk longer, RingBritain.com offers $2 bonus on Voice Credit orders.
The promotion is valid starting June 13th until June 16th and applies to all Voice Credit orders of minimum $20. The $2 bonus buys 200 minutes to call UK landlines, as the rate for calling UK landlines is 1¢/min, or 68 minutes to call UK mobiles, the rate for calling mobiles being 2.9¢/min.
The Voice Credit service RingBritain.com offers is friendly, intuitive, and works just like any other prepaid calling card, while offering all the benefits of an online service: calling history, automatic renewal, etc. Calls may be placed:

From any landline, mobile or even payphone in the world, through local or toll free access numbers.
Calls may also be placed through the app called KeepCalling, which is not chargeable. The iOS and Android applications may be used to call without having to dial any access number, and even any phone number at all. Once logged in the app, customers can use their phone Contacts list to call.
From any PC with Internet connection, through the Web Call app available in customers' accounts.
Besides calling, RingBritain.com offers Virtual numbers, a service that allows all expats living abroad to feel closer to home. How does the service work? Let's say RingBritain.com customers live in New York and they have mobiles. Their friends live in UK and their numbers are +44 203 area code ones. RingBritain.com customers need to get a Virtual Number in the area code +44 203, London, that they can forward to their New York phone number. This way, their friends don't have to pay long-distance charges when they call New York! So, virtually, it's like living back home in UK!
RingBritain.com believes that no distance is too long if people stay in touch on an regular basis. That's why all the services RingBritain.com offers make a great solution for keeping a close relationship with everyone "back home", when living abroad. This is mainly due to:

the customer-focused approach, based on safe and easy to use services
the frequent special offers: bonuses or discounts on Voice Credit orders
the great Customer Service available 24/7
security-focused approach, the website having implemented several security filters that protect customers from possible frauds, making all transactions 100% safe.
To find out more about RingBritain.com's newest offers, customers are invited to follow their Facebook page at Facebook.com/RingBritain.
About RingBritain.com:
RingBritain.com is an interactive website designed by KeepCalling, a global telecommunications company registered in 2002 in USA. Presently, KeepCalling provides its services to hundreds of thousands of consumers and businesses, with a focus on customer satisfaction. KeepCalling has been listed by Inc 5000 in top 20 telecom companies in the USA for the last 4 years. In 2014 the company was designated the 18th fastest growing company in the telecommunications industry in USA with a revenue increase of over 600% from 2010 to 2013.