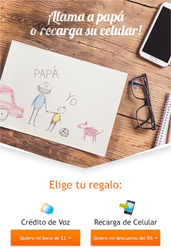 (PRWEB) June 13, 2015
It's time to celebrate Colombian Superhero fathers, with LlamaColombia.com. Why Superheroes? Because they have proved their superpowers throughout their children's existence, either when teaching them how to ride a bike, how to solve a math problem or how to deal with soul matters.
The Father's Day celebration on LlamaColombia.com includes:

a special promotion, offering either $2 bonus on Voice credit orders or 5% discount on Mobile Recharge orders sent to Colombia.
a Facebook contest, that allows customers to find out what type of father their Dad is and that offers 3 prizes of $20 that can be used for international calls or texts to Colombia. Customers may use the $20 either to call their dads back home or to brag about the great prize they won.
The Father's day promotion offers either $2 bonus on Voice credit orders or 5% discount on Mobile Recharge orders placed starting on June 16th until June 18th. The $2 bonus buys 133 minutes in case customers call Cali or 68 minutes in case they call any landline or Claro mobile. If they choose the 5% mobile recharge discount, they will pay less, which means that not only they offer a great gift to someone dear, but they manage to save money on the international top up they send. Customers must use coupon code DADDY2, if they choose the Voice Credit bonus or DADDY5, if they choose the mobile recharge discount.
The Facebook contest starts on June 15th and invites LlamaElSalvador.com customers to take a funny quiz that would reveal the type of dad they have. All customers have to do is share the quiz on their page and invite their friends to join the contest. Mainly, the quiz shows that dads can be: Buddies, Joking gurus, Sirs Helicopter and Fixo Dads. Besides being fun, the quiz also rewards 3 of the participants, on a random selection mechanism: $20 they may use to place a Voice Credit order or to send an international mobile recharge to their dads or someone else dear.
LlamaColombia.com guarantees 100% transaction security and satisfaction. All major payment methods are accepted: Visa, MasterCard, American Express, Discover and PayPal. Moreover, payment is available in several currencies: US, Australian, or Canadian Dollars, British Pounds, and Euros. The payment security system is known as very strong.
On review websites, customers point out the low rates and high quality of the service. One of them says "Best service for the money. I have been using LlamaColombia for some time with great success and no complaints. I highly recommend it."
To find out more about LlamaColombia.com's newest offers, customers are invited to follow their Facebook page at Facebook.com/LlamaColombia.
About LlamaColombia.com:
LlamaColombia.com is an interactive website designed by KeepCalling, a global telecommunications company registered in 2002 in USA. Presently, KeepCalling provides its services to hundreds of thousands of consumers and businesses, with a focus on customer satisfaction. KeepCalling has been listed by Inc 5000 in top 20 telecom companies in the USA for the last 4 years. In 2014 the company was designated the 18th fastest growing company in the telecommunications industry in USA with a revenue increase of over 600% from 2010 to 2013.