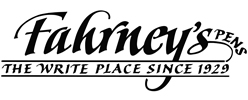 Delray Beach, FL (PRWEB) June 11, 2015
Ability Commerce, a leading provider of direct commerce enterprise resource planning (ERP) retail software announced today that Fahrney's Pens, the nation's premier source for fine writing instruments and accessories, will be migrating off of their current ERP platform to Ability CCS this summer.
"Fahrney's was looking for a new ERP solution that met their needs for features, scalability and overall cost of ownership. When they were ready to make the move off their current system, Ability CCS was a natural fit because of their familiarity with our Ecommerce SmartSite platform," said Diane Buzzeo, president of Ability Commerce.
"We currently run an older version of JDA's Ecometry system. We wanted to make a move away from the MPE platform and we felt that Ability CCS provided us the most comprehensive solution to move forward with our business," said Chris Sullivan, president of Fahrney's Pens.
About Fahrney's Pens
Headquartered in Washington, DC, Fahrney's Pens is the nation's premier source for fine pens, refills and accessories. With a history of fine pens dating back to 1929 and its founder Earl Fahrney, Fahrney's Pens remains true and dedicated to providing customers who appreciate the quality and tradition of fine pens "the write place" for all things pen related. For more information about Farhney's Pens, visit their website at http://www.fahrneyspens.com
About Ability Commerce
Ability Commerce is a leading provider of enterprise resource planning (ERP) direct commerce retail platforms that help growing retail businesses increase revenue, reduce overhead and engage with their customers. The company ranked No. 3 in the Marketplace Management category on Internet Retailer's 2014 list of Top Second Collective 500 ("Second 500") Leaders. Its comprehensive software solutions, which enable companies to acquire, convert and retain customers more efficiently, include Ability CCS (ERP backend platform) and the SmartSite ecommerce platform. Also, as a Microsoft Gold Partner, Ability Commerce offers the Microsoft Dynamics GP solution. For more information about Ability Commerce, visit http://www.abilitycommerce.com