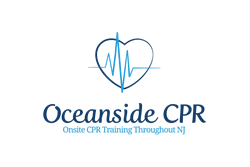 We have made it easier than ever for corporations, schools and healthcare facilities to set up on-site training for their employees-at their office, on their schedule.
Wall, NJ (PRWEB) June 15, 2015
Oceanside CPR announces the launch of its modern, sleek new website, http://www.oceansidecpr.com, which incorporates a host of new digital features designed to improve user experience and increase engagement. The new site will make it easier for Ocean and Monmouth County, NJ residents and businesses to find CPR, AED and BLS classes and certification programs that fit their needs and their schedules.
The new Oceanside CPR website is designed to enhance the online user experience, while helping to spread awareness of the importance of CPR and BLS skills. Sharon Patterson, Vice President, states "Above all, we wanted the site to be easy-to-use, with visitors able to easily find and register for upcoming classes. We know how busy everyone's calendars are, so we have made it easier than ever for corporations, schools and healthcare facilities to set up on-site training for their employees-at their office, on their schedule. "
Through a complete back-end overhaul, expansion of the site's usability and adaptability, combined with a modern, reassuring design, streamlined UI and more informative, accessible content, the new site highlights the important and life-saving mission of Oceanside CPR.
The new http://www.oceansidecpr.com site includes the following site enhancements:

Responsive Design: Easy, mobile-friendly navigation, allowing on-the-go class registration
Streamlined Navigation: Simplified menus and improved organization, enable visitors to quickly locate the information they need to choose the right class for them.
More Efficient Registration Process: Dynamic listings for upcoming classes featured on the home page, create a faster, more intuitive registration process
Renewed Focus on On-Site Group Classes: Revised content and design emphasize flexible, on-site CPR, BLS, and first aid training and certification options available to larger groups
Improved Class Schedule: Upcoming class schedule features enhanced organization and search functionality, enabling visitors to easily find the class they want by date, location and subject
Oceanside CPR offers fun, engaging life-saving skills classes to individuals and groups throughout the Jersey Shore. Through a combination of hands-on experience, easy-to-follow instructions and a low-pressure, casual environment, Oceanside CPR ensures that every student leaves class feeling confident, fully-certified and prepared to act in any emergency.
About Oceanside CPR
Oceanside CPR is Monmouth and Ocean County, NJ's leading CPR, BLS and First Aid training provider. With more than 25 years of experience, the knowledgeable team of professionals at Oceanside CPR offers a relaxed and comfortable learning environment, designed to foster confidence and instill crucial life-saving skills.
Offering both class sessions for individuals, as well as private, customized, on-site certification courses designed for corporations, health care workers, educators and day care providers, and parenting groups, Oceanside CPR has the ideal class for every need.
Oceanside CPR is an American Heart Association authorized training site, with affiliations to the American Red Cross and American Safety & Health Instituted. Classes and certification include CPR & AED, BLS for health professionals, pediatric CPR and first aid, babysitting safety and wilderness first aid instruction.