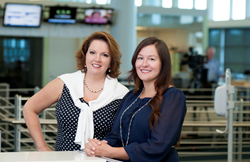 Thanks to WSRQ and SNN - Suncoast News Network, we have wonderful outlets to talk about the many acts of philanthropy taking place in our community, and honor those who are committed to improving the lives of others," said Miller.
Sarasota, Florida (PRWEB) June 12, 2015
Goodwill Manasota has taken to the airwaves to share stories of philanthropy and good corporate social responsibility throughout Sarasota and Manatee counties. Through the "Tell Me Something Good" radio show on WSRQ, hosted by Goodwill Foundation vice president Veronica Brandon Miller and director of community outreach Rick Hughes, and the "Good News" show on SNN - Suncoast News Network, hosted by Miller and marketing & PR coordinator Kelly Davis Strausbaugh, those who work within and contribute to the nonprofit community have the opportunity to be recognized through the news media for their good works and to inspire others.
"Television and radio are strategic and critical points of access to the wider community," said Miller, who spearheads Goodwill's marketing efforts locally. "If you ask any nonprofit's professional team and supporters what they feel is their organization's greatest challenge, they'll usually say it's raising awareness of their important work. Another challenge is finding meaningful ways to recognize supporters. With these shows, we are addressing both of those major challenges while ensuring that people understand just how Goodwill strives to change lives through the power of work."
"Tell Me Something Good," which airs on Sundays at 11am, debuted on WSRQ on January 11. The show, which has proven to be very popular, helps Goodwill in a variety of ways. It helps Goodwill in the cultivation of donors and supporters, allows Goodwill's business partners to talk about the corporate social responsibility projects they are doing, and enables Goodwill's close collaborating nonprofit partners to talk about what they are working on to make the community a better place to live.
In recent months, Miller and SNN President and GM Doug Barker, spoke about doing something similar on SNN.
"I was very impressed with the quality of the content and caliber of guests who appeared on 'Tell Me Something Good,'" said Barker. "SNN has always prided itself on supporting good works in the community; I feel there is no better or more appropriate way for a news station to 'give back' than to contribute airtime to these feel-good and do-good stories from right here at home."
"Good News" debuts on SNN this Sunday, June 14, at 9:30am. Guests on the inaugural show are attorney Bill Robertson, CEO of Kirk-Pinkerton, P.A. and one of Goodwill's most committed supporters for the Veterans Services Program, and Ret. Col. Linda Gould, who is Community Connection consultant with The Patterson Foundation, and on the board of the Military Officers Association of Sarasota. She will talk about the "American Flag Protocol Initiative" and the weekend's community-wide Flag Day event, "Celebrating the Stars and Stripes." The show will also feature a "Fabulous Finds in 5" segment, where in five minutes viewers can see some great finds from Goodwill and have a "fashionista" give some great tips about pairing finds together.
"Not a day goes by that our team isn't touched or inspired by the acts of generosity we see – whether from donors, fellow team members or business partners we've met through our work," said Miller. "We talked about how wonderful it would be to share these stories with the community at large so that they, too, could be inspired. Thanks to WSRQ and SNN - Suncoast News Network, we have wonderful outlets to talk about the many acts of philanthropy taking place in our community, and honor those who are committed to improving the lives of others."
About Goodwill Manasota
Goodwill Manasota is an industry-leading, 501(c)(3), not-for-profit organization that changes lives through the power of work. With the sales of donated goods and philanthropic donations, Goodwill is able to assist people with disabilities and other barriers to employment by providing job skills training and employment opportunities. In 2014, Goodwill Manasota served more than 16,000 people, placed 680 people in jobs and assisted 520 veterans as they reintegrated back into the civilian workforce. Goodwill Manasota's economic impact back to the community is worth $81.3 million. Goodwill is one of the pioneers of the reduce-reuse-recycle movement and this past year diverted 39 million pounds out of the landfill. We accomplish our mission through a network of Good Neighbor Centers in Sarasota, Manatee, Hardee and DeSoto counties and our Mission Development Services (MDS) around North America. Goodwill Manasota is accountable to a local Board of Directors. Goodwill Manasota in essence belongs to this community, and is not owned by any individual or company. For more information, visit http://www.experiencegoodwill.org.
###