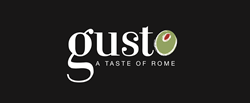 Our vision at Gusto is to bring the secrets of our old family recipes to Jacksonville.
Jacksonville, FL (PRWEB) June 12, 2015
Jacksonville-area media, elected officials, community leaders and business leaders are invited for a free food and wine tasting on June 15 at 5:00 pm, at Gusto Jax, a new Roman restaurant located at 1266 Beach Blvd, Jacksonville Beach, FL 32250. Gusto will open to the public beginning June 18.
Chef Tonino Di Bella will be serving "tastes" of signature Gusto food and wines, and joining co-owner Walter Bianchi in addressing the media and guests at the June 15 VIP ribbon cutting event.
Doors will open to the general public on June 18 for four consecutive nights of soft grand opening celebrations with full menu, extensive bar and live music with popular Jacksonville-area artists, including Toots Lorraine, Murray Goff and Chris Thomas.
"We want to introduce Jacksonville to the authentic preparation of classic Roman food at Gusto and guarantee a great time in a series of fun soft opening dates," says co-owner Walter Bianchi. "We don't expect to have everything working perfectly those first few days but we promise to do our best to make dining and socializing at Gusto a great experience for all who visit us."
"Our vision at Gusto is to bring the secrets of our old family recipes to Jacksonville," says Chef and co-owner Tonino Di Bella, a veteran Jacksonville chef and Italian immigrant. "Gusto is not your typical Italian restaurant," Di Bella says.
Gusto Jax features classic Roman dishes, eight different bruschettas, an extensive antipasti menu, house made breads and pastas, an open pizza tossing kitchen, full bar and Chef's favorite limoncello and grappa. Small plate BAR Tastes and authentic Italian desserts top off the extensive menu.
About Gusto Jax:
Gusto Jax is the culmination of Chef Tonino DiBella's 29 years in the Jacksonville food scene and Walter Bianchi's over 30 years of business success. As co-owners of the restaurant and Italian immigrants, DiBella and Bianchi are working together to bring their love of classic old world Roman dining to Jacksonville.'
Gusto will be open nightly at 5:30 pm beginning June 18, with four consecutive nights of soft opening festivities, special menu features and live music. Gusto will open for normal dinner hours beginning June 22 and will offer all day dining and full service catering beginning late-summer, 2015.
For more information about Gusto Jax and reservations, visit http://GustoJax.com or follow Gusto Jax on their Facebook page at https://www.facebook.com/gustojax.
Contact:
Gusto Jax – A Taste of Rome
Melisa Kirby
(904) 314-4748
Social(at)GustoJax(dot)com
http://GustoJax.com