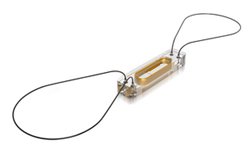 New York, NY (PRWEB) June 11, 2015
Cardiologists at The Mount Sinai Hospital have begun implanting tiny, state-of-the-art microchip sensors in patients with advanced heart failure to better monitor symptoms and reduce their chances of returning to the hospital.
The implantable sensor, called the CardioMEMS™ HF System, developed by St. Jude Medical, is a battery-less, dime-sized device placed directly inside the heart to monitor its pulmonary artery. Implanted through a minimally invasive procedure, the sensor detects increases in pulmonary artery pressure, an early sign of worsening heart failure that can be detected before symptoms arise. Among the symptoms of advanced heart failure is shortness of breath, the kind of frightening experience that sends people racing to emergency rooms.
Once implanted, the device transmits daily pressure readings to a patient's medical team, who can then proactively provide real-time, personalized feedback before symptoms worsen. The device has been shown in clinical trials to reduce hospital readmissions for advanced heart failure patients by up to 37 percent.
The new microchip technology is designed for advanced heart failure patients who have been hospitalized within the previous 12 months. The goal of Mount Sinai's heart failure experts is to improve the quality of life in patients with heart failure and reduce the likelihood of hospital readmissions, a growing trend for this high-risk patient population which has become a national priority for the Centers for Medicare and Medicaid Services to reduce readmissions to curb growing healthcare costs.
"This new device will enable heart failure patients to live more comfortably, easing their worries as we closely monitor them for the earliest signs of fluid retention, a major cause of the symptoms of breathlessness and tiredness heart failure patients experience," says Raymond Bietry, MD, Assistant Professor of Cardiology who was the first cardiologist at Mount Sinai to implant the device.
The sensor is the first of its kind and was FDA-approved in 2014. Research studies have shown it has the ability to successfully and safely transmit daily measurements from the patient to their doctor. The implant procedure takes less than an hour to perform, there is typically no overnight stay, and patients can quickly resume their normal life.
"Mount Sinai is all about increasing patient care, comfort, and quality of life with the use of innovative medicine," said Sean Pinney, MD, Director of Heart Failure and Transplantation for The Mount Sinai Hospital and the Mount Sinai Heath System. "This new sensor technology may be a real game-changer for the field of heart failure and allows us to improve patient care, long after they've left the doors of Mount Sinai."
About the Mount Sinai Health System
The Mount Sinai Health System is an integrated health system committed to providing distinguished care, conducting transformative research, and advancing biomedical education. Structured around seven hospital campuses and a single medical school, the Health System has an extensive ambulatory network and a range of inpatient and outpatient services—from community‐based facilities to tertiary and quaternary care.
The System includes approximately 6,600 primary and specialty care physicians, 12‐minority‐owned free‐standing ambulatory surgery centers, over 45 ambulatory practices throughout the five boroughs of New York City, Westchester, and Long Island, as well as 31 affiliated community health centers. Physicians are affiliated with the Icahn School of Medicine at Mount Sinai, which is ranked among the top 20 medical schools both in National Institutes of Health funding and by U.S. News & World Report.
For more information, visit mountsinai.org, or find Mount Sinai on Facebook, Twitter, YouTube and Instagram.