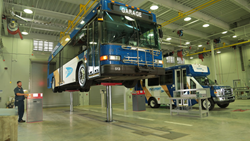 Safety, performance, and durability are among the most important drivers in terms of how shops select their equipment.
Stevensville, Maryland (PRWEB) June 15, 2015
Heavy duty vehicle lift leader Stertil-Koni today reported that according to a recent industry overview it conducted, a broad range of vehicle maintenance facilities across North America are increasingly mandating new engineering approaches to their in-ground vehicle lifting systems that more fully address safety, structural and long-term maintenance concerns experienced with traditional in-ground lifting systems.
"Safety, performance and durability are always among the most important drivers in terms of how municipal garages and large private maintenance shops select their lifting equipment," noted Peter Bowers, technical sales manager for Stertil-Koni. "More specifically," Bowers continued, "when these customers make large capital expenditures for new or retrofitted facilities, beyond lift performance, they want to make certain that the new designs employed minimize corrosion problems associated with lift floor frames, reduce maintenance costs, and, that the new lift pit covering systems are flush and load-bearing -- thereby reducing potential hazards to the lift operator on the shop floor."
Historically, some traditional in-ground lift floor frames corroded over time, at which point the corrosion expanded and literally pushed the floor frame out of the concrete vault (which houses the lifting system). "In those circumstances, Bowers added, "the lift could become unsafe and unusable."
Stertil-Koni has addressed these pressing market requirements with its recently introduced DIAMOND LIFT, a heavy duty in-ground telescopic piston lift that is rapidly becoming the go-to choice across North America.
As seen in striking detail in a new video, https://vimeo.com/129437903, the DIAMOND LIFT delivers an enhanced engineering concept to the heavy duty in-ground lifting arena. Among the engineering innovations it delivers are the following:
1. The upper portion of the DIAMOND LIFT containment is hot-dipped galvanized, which provides corrosion resistance at floor level and ensures proper interlock with the foundation.
2. The containments are coated internally and externally with DiamondGuard, which protects the containments against corrosion and electrolysis.
3. The DIAMOND LIFT features flush-to-the-floor high load-bearing anodized aluminum trench covers with a skid-resistant surface utilizing a continuous hinge with no moveable parts. These covers are driven hydraulically with an inverted rack and pinion system, sliding on a corrosion-resistant, self-cleaning surface. What's more, these covers are capable of handling a wheel load of 13,500 lbs. as well as a point load of 7,500 lbs. on a four-inch square contact area.
4. The DIAMOND LIFT utilizes an industry-changing mechanical locking system that includes a hardened, nitro-carburized locking rod for superior resistance to corrosion and wear.
5. All power units and control components are located in an above-ground console for easy access, maintenance and service.
"In sum," concluded Bowers, "it's a new era for heavy duty in-ground piston lifts – one in which safety, performance and durability are all raised to new levels."
About Stertil-Koni
Stertil-Koni, a brand of the Stertil Group, is the global market leader in heavy duty vehicle lifts – bus lifts and truck lifts– and is the preferred supplier to the world's leading companies in the truck and bus industries. Stertil-Koni's breadth of products meets all ranges of lifting needs and includes mobile lifts, two-post, four-post, in-ground piston lifts, parallelogram lifts, half-scissors and its innovative axle-engaging, in-ground, scissor lift configuration, ECOLIFT. Stertil-Koni is also now installing DIAMOND LIFT across North America, a full rise telescopic piston lift designed to set new standards in precision heavy duty lifting. Stertil-Koni USA is headquartered in Stevensville, Maryland. Stertil-Koni has production facilities in Europe in The Netherlands, and in the USA in Streator, Illinois.