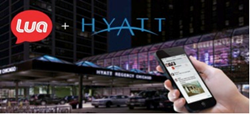 "Lua's real-time communication is pivotal in the success of our operation," said Eduard Torres, Senior IT Director at Hyatt Regency Chicago.
New York, NY (PRWEB) June 11, 2015
Lua, the leading enterprise messaging solution, announced today that Hyatt Regency Chicago, the world's largest Hyatt property, has deployed Lua as its secure messaging provider. Lua is now an integral part of Hyatt's communication strategy, allowing employees to better support guests and operate the sprawling property.
"Lua's real-time communication is pivotal in the success of our operation," said Eduard Torres, Senior IT Director at Hyatt Regency Chicago. "After our Lua install, our accountability and efficiency went up. The division was able to communicate with each other seamlessly in a high volume and group format which better allowed us to serve our colleagues, guests and their needs."
Since implementing Lua, Hyatt Regency Chicago has significantly improved response times with real-time messaging and instant group calling – getting answers instantly instead of in hours. Lua's organized directory has also made it effortless for staff to quickly connect to one another, which is especially crucial with such a large staff and over 2,000 guest rooms in two separate high-rise towers. Prior to implementing Lua, communication was highly fragmented between employees using several different modes of communication including push-to-talk, email and radio.
"Strengthening the relationship between the Front Office and the Housekeeping Department has been our biggest success story as they are able to communicate on the spot regarding their needs of bed types, arrival times or last minute changes that affect numerous individuals," stated Justin Vining, Assistant Director of Rooms at Hyatt. "Lua has been critical in streamlining our communication efforts."
Not only has Lua transformed the internal communication at Hyatt but it is also being used to coordinate the hotel's extremely busy convention and events business for their 228,000 square feet of flexible function space. For the first time ever, Hyatt staff have been able to connect their conference services departments with their core external hospitality teams for a seamlessly integrated guest experience with events.
"The success of events at Hyatt Regency Chicago is dependent upon several departments, partners and the underlying technology," said Eke Dubois, National Director of Hotel Networks for their onsite A/V partner. "Hyatt's staff, Encore Event Technologies and Freeman have tried all forms of communication to collaborate in the past, including two way radios, push-to-talk, emails and phones, always searching for a better way. Nothing was ever as efficient or pleasant as the enterprise secure solution, Lua."
"Using Lua has directly impacted Hyatt's ability to provide better customer service," said Ryan Snell, Vice President of Sales at Lua. "This is yet another example of Lua's ability to provide a competitive advantage for our customers by enabling them to harness the true power of mobile at the point where operations and revenue intersect."
See Lua in action next week at the premiere hospitality event, Hospitality Industry Technology Exposition & Conference (HITEC) in Austin, TX from June 15-18, 2015.
About Lua
Founded in 2010 in New York City, Lua is the mobile-first communication solution for high-performance organizations. Lua offers an intuitive and cross-platform solution that includes secure messaging, instant group calling, an interactive directory, and accountability across a team through essential ReadReports. Insights, Lua's proprietary analytics dashboard, synthesizes communication data to provide actionable insights for managers to boost effectiveness within the organization.
Backed by investors including Abundance Partners, IA Ventures, Strauss Zelnick, Aaron Stone and John Maloney, Lua delivers powerful communication to enterprises across a range of verticals, including healthcare, logistics, hospitality, and retail. Lua also provides government-grade protection as a trusted vendor for the Department of Defense.
Lua complies with a range of security and privacy regulations, including HIPAA/HITECH for healthcare organizations and is the only mobile messaging solution approved by the federal government.
For more information, please visit: https://getlua.com.