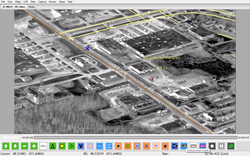 To date, our client footprint has grown to include software deployments in 17 different countries over 4 continents
(PRWEB) June 12, 2015
CarteNav Solutions Inc. to demonstrate latest ISR software at the International Paris Air Show, 15-18 June 2015.
CarteNav Solutions is embarking on the second phase of a busy summer tradeshow schedule, and will be travelling to Europe to demonstrate their intuitive software solutions at the International Paris Air Show next week.
The Halifax-based software company will be showcasing the latest features of its cutting-edge intelligence, surveillance, and reconnaissance (ISR) software solutions to government, commercial and public visitors at the Exhibition Park, Paris-le Bourget, Paris, France. CarteNav will be exhibiting as part of the Canada Pavilion, Hall 3, booth D80.
"CarteNav has acquired a number of new customers in Europe and around the world over the last year," said Steve Watson, CarteNav's VP Business Development. "Winning the National Police Air Service (NPAS) rotary wing bid was a significant milestone, and our business has had a bumper year," he continued.
"To date, our client footprint has grown to include software deployments in 17 different countries over 4 continents," added Mr. Watson.
CarteNav's AIMS-ISR® and AIMS-HD software solutions are in use in various roles, not only on aircraft, but also on ships and reconnaissance vehicles, and the wide application of the software has helped the company achieve a global presence.
CarteNav's software has seen rapidly increasing demand, not only in airborne reconnaissance, but in other applications and mission types, such as Search and Rescue, fire mapping, infrastructure monitoring, and airborne law enforcement, to name just a few.
"Despite this significant growth, we are still involved in multiple active upgrade programs with a number of long-standing government and commercial customers, including the Royal Canadian Air Force, and some of our customers have been with us since day one," concluded Mr. Watson.
Advanced mission management tools, in-video overlays, and in-video control means the operator has access to everything they need at the touch of a button. Coupled with a powerful map engine and the flexibility to be installed on most types of hardware, CarteNav has created a compelling solution for many mission types.
About CarteNav Solutions Inc.
CarteNav Solutions Inc. is an international leader in mission and sensor management software solutions for the airborne, land, and maritime environments. Founded in 2002, CarteNav offers operationally proven technology that integrates, manages, and displays relevant data that dramatically improves performance of both sensor operators and tactical decision makers. The company has established a reputation for providing sought-after and high-value solutions that can be deployed on a wide variety of platforms for multiple mission types for government, military, and commercial customers.
About the International Paris Air Show
2015 will see the 51st edition of this 100-year-old event and is the largest and longest running aerospace trade show in the world. The show is open to both trade and public and features more than 2,200 exhibitors from 47 countries and 120 aircraft.