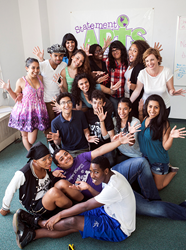 "Statement Arts changed my life," says Diana Fernandez. "They helped me find my confidence and discover who I am and who I want to be."
NY, NY (PRWEB) June 15, 2015
New York City non-profit, Statement Arts will be repeating its incredibly successful College Preparatory Program, Expanding Horizons at the United Palace of Cultural Arts. Started in 2012, this program mentors under-served and 'at-risk' high school seniors with an eye towards the arts. College Prep students are guided through every step of the college application process including SAT preparation and essay drafting. The program boasts a 100% success rate for college acceptance. "Statement Arts changed my life," says Diana Fernandez. "They helped me find my confidence and discover who I am and who I want to be."
Budget cuts in the New York City school system have left major holes in funding for music and arts programs. "There is a real need for a more focused, hands-on college preparation class for aspiring artists and musicians, especially for kids living at or below the poverty line. Our students can't afford the private lessons or coaching necessary to prepare for the rigorous college audition process," says, Liza Politi, Founder, Statement Arts. "We are trying to level the playing field to allow our kids further exposure to the arts." Statement Arts kicks off its summer arts program with a fundraising appeal through an IndieGoGo Campaign.
Crowdfunding and the internet have changed the way nonprofits ask for donations and they may be changing the face of philanthropy as we know it.
"This is an excellent way to reach a global community," said Alexis Petrus, Statement Arts. "We are fortunate to have prestigious partners in the Rudin Foundation, the LMCC and the NYC Citizen's Committee, but every year a large portion of our program is funded through private donations. Without our private donors, we would be unable to open our doors over the summer."
Statement Arts has set a goal to raise an additional $15,000 to fund this program. The IndieGoGo fundraising campaign will run through July 10, 2015.
Go to the Statement Arts IndieGoGo campaign here:
http://igg.me/at/cpM7u1U7HvE/x/559697
About Statement Arts
Arts Program Got Its Start at Hell's Kitchen High School Statement Arts was started in 2003 as a volunteer-run performing arts enrichment program at a public high school in New York City's Hell's Kitchen. Since then, over 500 low-income teens, ages 14 to 18, have benefited by performing in plays, working on scene production and learning about the importance of teamwork, collaboration and commitment. Statement Arts' students have been honored by The Bill & Melinda Gates Millennium Scholarship Fund and participated at the Sundance Film Festival.
###
Mission:
Statement Arts is a not-for-profit organization dedicated to bringing the creative visual & performing arts to underserved and/or low-income individuals. We channel creativity to educate, to enhance intellectual performance, to empower and guide, and to build self-esteem. Statement Arts is committed to giving our students an intercultural and interdisciplinary arts experience to which they do not have access. Statement Arts believes in the power of art to inspire social, cultural, and environmental education to further a legacy of responsible global citizenship. Statement Arts is located in Manhattan, NYC. For more information visit http://www.statementarts.org.