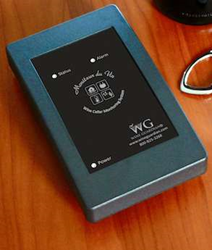 Moniteur du Vin will allow worry-free wine cellar monitoring for our customers
Syracuse, NY (PRWEB) June 13, 2015
As part of its product advancement process, Wine Guardian is introducing a new product that will help wine collectors monitor wine cellar conditions continuously. Moniteur du Vin is a cellular-based wine monitoring system that allows users to check their wine cellar status from anywhere.
Moniteur du Vin is an system that monitors temperature and humidity in wine cellars and notifies users when their cellar is outside the user's defined acceptable range. The system also notifies users when power to the cellar is off. When cellar conditions are outside an acceptable range or if power to the cellar is out, an alert is immediately sent to the user via text, call or email.
Additionally, the system collects and logs wine cellar temperature and humidity data, allowing users to track and record wine cellar conditions over time, thus validating the provenance of their wines, should they ever decide to sell the wine.
Moniteur du Vin is powered strictly by cellular technology — no Wi-Fi is required. Cell-based technology allows the system to keep working through power outages which means users do not need a constant internet connection running to monitor their wine cellar conditions. This is invaluable for many owners of vacation homes or for those who are away for extended periods of time. Internally, the system utilizes a long-lasting, self-charging lithium-ion battery producing a worry-free state of mind for users.
"We are very excited to be able to bring this product to our customers," Wine Guardian Division Manager Mike Militi said. "Moniteur du Vin will allow worry-free wine cellar monitoring for our customers."
About Wine Guardian
Wine Guardian, a division of Air Innovations, is a world leader in wine preservation. Regardless of the size of the space or number of bottles being conditioned, Wine Guardian systems deliver superior performance in temperature and humidity to ensure quiet and perfect conditions for each wine collection, whether installed in commercial or residential cellars. Wine Guardian offers multiple installation configurations, including ducted, ducted split and through-the-wall systems—all with numerous options and sensing, monitoring and alarm capabilities. Wine Guardian systems incorporate cooling, heating, filtration, ducting, internal safety devices and high or low ambient control as integrated solutions. Humidification can be built into the system at the time of order or added separately. For more information or to find an authorized Wine Guardian distributor, visit http://www.WineGuardian.com, call 800-825-3268 (international + 1 315-452-7407) or email info(at)wineguardian(dot)com.
About Air Innovations
Established in 1986, Air Innovations designs, tests and manufactures specialized air conditioning and environmental control systems for a wide variety of niche market applications. Equipment is produced in a 40,000-square-foot, state-of-the-art facility in Syracuse, N.Y. Family-owned by licensed professional engineers, The company's brands include: Floratech® refrigerated floral display cases for supermarkets and discount retailers; CleanroomSystems® custom-designed environmental control systems/air conditioning units for cleanrooms and other critical environments sold under the trade names HEPAir® and AdvancAir®; Wine Guardian® wine cooling systems for environmental control of residential and commercial wine cellars; IsolationAir® portable contamination control unit for health care facilities and emergency preparedness; and, HEPAiRx® ventilating room air purifiers.
For more information about Air Innovations, visit http://www.AirInnovations.com, call 800-825-3268 (international + 1 315-452-7400) or email info(at)airinnovations.com.