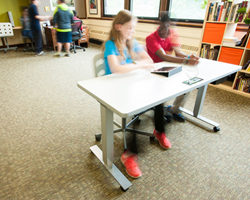 Spring Lake, MI (PRWEB) June 15, 2015
Interior Concepts Corporation is an industry leader in designing, manufacturing, and installing furniture for corporate and K-12 environments. Interior Concepts recently launched EnerGEE! a safe new rechargeable battery option for tables, bringing the idea of work anywhere to a reality.
Create a charging table by incorporating EnerGEE! into almost any Interior Concepts table. The EnerGEE! unit features a long-lasting battery system that allows USB charged devices, like phones or tablets, to remain charged for hours without being connected to building power. Simply wheel a table equipped with EnerGEE! where it's needed and create a wireless charging station that will power devices all day long.
EnerGEE! features an easy to read fuel gauge and four USB 2.0 charging ports. The unit can charge 7-10 cell phones or 5 tablets from empty to full on a single charge. At the end of the day wheel the table to the wall-mounted charger and in the morning EnerGEE! will be fully powered and ready recharge devices. EnerGEE! features a Lithium Iron Phosphate battery, which is known for its safety, longevity, power, and environmental friendliness.
The battery in the EnerGEE! unit is rated for thousands of recharges without losing capacity, and when it comes time to replace the battery it can be individually replaced without replacing the entire system. To learn more about EnerGEE! and how to create a wireless charging station visit the EnerGEE! product page on our website.
About Interior Concepts: Drawing from decades of experience in designing and manufacturing high quality, made in the USA furniture, Interior Concepts is the #1 choice for commercial business and educational furniture. For more information, or to request a free, no obligation quote visit http://www.interiorconcepts.com.