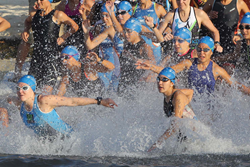 Triathlon will continue growing in numbers and it can become an Olympic event
Riviera Maya, México (PRWEB) June 11, 2015
Cancun, Q. Roo (May 2015).- On May 17th the eco-tourism resort Hacienda Tres Ríos welcomed 400 athletes from the Yucatan Peninsula and abroad, including children as young as 6 years old who accepted the challenge of participating in the 5th Hacienda Tres Ríos Triathlon in the unique natural ambiance that only the Tres Ríos Nature Park has to offer.
Cancun local Victoria Juanicotena and Cozumel's own Alan Carrillo were the first place winners of this competition that included a Sprint distance and several children´s categories.
Both winners set a new record in the competition. Alan Carrillo finished the three disciplines of the Triathlon in a record one hour and four seconds, while Victoria Juanicotena finished the competition in one hour 11 minutes and seven seconds followed by Fabiola Rodríguez who arrived at the finish line in one hour 13 minutes and 55 seconds; Ana Beatriz Martin Yam arrived in third place, finishing in one hour 15 minutes and 33 seconds.
A true family atmosphere was felt throughout the event with the participation of the family members of the triathletes who were there cheering their loved ones on during the entire competition.
Grandparents, parents and children got together in this event that is gaining popularity among athletes due to the ambiance and natural surroundings it takes place in.
In the men´s category, Bruno Larios Solís arrived in second place with a time of 1 hour 59 seconds and the third place winner was Luis Alberto Aguilar Delgado with a time of one hour 1 minute and 36 seconds.
At seven in the morning, the first participants ran into the water of the Caribbean sea to start the 750-meter combined swim, first in Caribbean waters and then in the Pajaros river. During the 20 kilometer cycling discipline, triathletes took to the Cancun –Tulum highway, a route that was made safe at all times thanks to the assistance and full support of the federal police and agents from the Solidaridad municipality. The competition ended with a 5 kilometer run inside the nature park in paths surrounded by lush vegetation and mangrove.
The children's categories began at 9 am. The 6 to 8-year olds did a 50-meter swim, cycled 1 kilometer and finally ran 500 meters. Ages 9 to 11 swam 150 meters, cycled 4 kilometers and ran 1 kilometer while 12 and 13 year olds did a 200-meter swim, cycled 8 kilometers and ran 2.5 kilometers. The 14 and 15 year old category swam 400 meters, cycled 10 kilometers and ran 2.5 kilometers.
Germán Fayad, Director of Operations at Sunset World, explained that they are already hard at work so that the Triathlon will continue growing in numbers and it can become an Olympic event, which would attract greater participation by elite athletes.
The 5th Hacienda Tres Ríos Triathlon is a unique competition that takes place in a magical site: an exclusive 132-hectare nature park boasting 3 natural rivers and 10 sinkholes, more than 120 plant species and more than 90 animal species, and representing a true challenge for competitors.
Iris Rivera, communication and media executive at Sunset World Resorts & Vacation Experiences, announced that the sixth edition of the Triathlon will take place on May 22nd 2016.