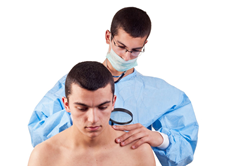 Rolling Meadows, Ill. (PRWEB) June 11, 2015
As the incidence of skin cancer continues to rise, dermatologic surgeons are working diligently to improve treatment methods and promote the prevention and early detection of the disease.
Members of the American Society for Dermatologic Surgery performed an estimated 3.08 million skin cancer treatments last year, according to the 2014 ASDS Survey on Dermatologic Procedures. That total represents a 15 percent increase since 2011, with the total growing each year.
ASDS member Ian Maher, MD, said rising skin cancer incidence rates are largely tied to intentional tanning and longer life expectancies.
"Scientists continue to work hard on developing non-surgical treatments for skin cancers such as melanoma," Maher said. "However, if you look at the data from even the most promising new melanoma drugs, they're really only increasing life by a matter of months. We still need to be focusing hard on skin cancer prevention – getting folks to wear sunscreen, sun-protective clothing and avoiding direct sunlight when possible."
Early detection of skin cancer is vitally important, he said. "That means keeping skin cancer awareness high and educating primary care doctors and the public at large as to the warning signs of skin cancer is going to be incredibly important to help us keep on top of this epidemic," Maher said.
A significant development in skin cancer education occurred this spring when ASDS released the first-ever set of consensus recommendations for the treatment of basal cell carcinoma, the most frequently occurring form of skin cancer. The authors agreed Mohs Micrographic Surgery is the "treatment of choice" for high-risk BCCs and for those in cosmetically sensitive locations.
"The development of the modern incarnation of Mohs surgery 30 years ago has provided us with a cost-effective and highly efficacious treatment option for high-risk skin cancers," Maher said. "Field therapies such as chemotherapy creams, photodynamic therapy and immune response modifiers can treat precancerous lesions and decrease the number of skin cancers a patient gets over time."
He cautioned, however, that the key to solving the skin cancer epidemic is going to be improving sun-protection behaviors to prevent skin cancers and focusing on early detection so that skin cancers are caught earlier.
Of the 3.08 million skin cancer procedures performed by ASDS members in 2014, 207,000 were for melanoma – one of the deadliest forms of skin cancer – a 9 percent increase over 2013. Non-melanoma treatments also increased slightly.
"Non-melanoma skin cancers tend to occur on sun-exposed parts of the body such as the head, neck and forearms," Maher said. "Melanomas most commonly occur on areas of the body that receive intermittent, high-intensity sun exposure such as the backs of men or the legs of women."
ASDS members are expertly trained in the surgical and non-surgical treatment options for the disease, with 94 percent of members performing skin cancer treatments in 2014.
ASDS is involved in several initiatives to take a leading role in fighting skin cancer:

Members offer free skin cancer screenings through the Choose Skin Health program, a partnership with Neutrogena.
The Sun Safe Soccer program educates the soccer community about sun-safe behaviors.
The Sun Safe Surfing program informs surfers about sun-protective gear and the best ways to minimize skin cancer risks before, during and after they surf.
The Stylists Against Skin Cancer program creates a partnership between dermatologists and hairstylists to promote early scalp skin cancer detection and to emphasize the importance of referring customers with suspicious lesions to dermatologists.
ASDS released a pair of national public service announcement videos to coincide with Skin Cancer Awareness Month in May, one warning against indoor tanning and the other focusing on sun-protective behaviors for men.
"Our members take a comprehensive approach toward the management and prevention of skin cancer," said ASDS President George J. Hruza, MD, MBA. "We are the leading authorities on skin cancer treatment, employing a variety of cost-effective treatment options based on the type of cancer and location of the lesion."
About the ASDS Survey on Dermatologic Procedures
Data were collected for the 2014 experience and generalized to represent all ASDS members. The survey was conducted Jan. 2 to Feb. 6, 2015, for data reported in 2014. The survey link was sent to 3,980 practicing members. Survey results are reported based on 826 physicians, or a 21 percent response rate.
About ASDS
The American Society for Dermatologic Surgery is the largest specialty organization exclusively representing dermatologic surgeons who have unique training and experience to treat the health, function and beauty of your skin. ASDS members are pioneers in the field. Many are involved in the clinical studies that bring popular treatments to revitalize skin and fill and diminish wrinkles to the forefront. Their work has helped create and enhance many of the devices that remove blemishes, hair and fat, and tighten skin. Dermatologic surgeons also are experts in skin cancer prevention, detection and treatment. As the incidence of skin cancer rises, dermatologic surgeons are committed to taking steps to minimize the life-threatening effects of this disease. For more information, visit asds.net.
Follow us:
Website: asds.net
Follow ASDS on Twitter: twitter.com/ASDSSkinExperts
Become a fan of ASDS on Facebook: facebook.com/ASDSSkinExperts
Locate a dermatologic surgeon in your area: asds.net/findadermatologist.aspx
Contact:
Jay Schwab
Communications Manager
American Society for Dermatologic Surgery
jschwab(at)asds(dot)net
847-956-9143