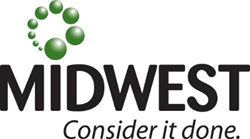 Canton, OH (PRWEB) June 11, 2015
Midwest Industrial Supply Inc., the company that pioneered the use of synthetic fluid lubricants for rail switches, has released Glidex MC, a new synthetic rail lubricant that lasts longer and reduces friction even more effectively than their existing, market-leading product.
The release signals Midwest's effort to extend their lead in the market with future-proof products that are years ahead of other switch lubrication methods in terms of efficacy, ease of application, and cost.
Glidex MC's improved chemistry now contains a specially formulated additive that reduces oxidation and makes the lubrication treatment last significantly longer than ever before. The new product was developed to contain residual properties, which means it has a cumulative effect that will effectively inhibit metal corrosion.
Glidex MC joins Midwest's long-established Glidex product line, which remains unparalleled in the market. The lubricants are designed to facilitate easy movement and better performance than any other friction-reducing products. Fully functional year-round and in any type of climate, Glidex MC can be used for switches in rail yards, steel mills, mining sites, and storage facilities and is proven effective even in the harshest conditions.
What's more, it can be applied in temperatures as low as -40F. Unlike traditional graphite-based technology that can be messy, wasteful, and harmful to the environment, Glidex MC serves as a long-lasting protective coating that achieves unprecedented levels of lubrication. It also exceeds all environmental standards, including the California Environmental Protection Agency's compliance regulations.
Rail safety is an important concern and has garnered mainstream media attention in the wake of recent train tragedies — there's no better time than the present to make our railways safer. To that end, an independent lab study proved that the Glidex MC reduces friction up to 30% more than its predecessor, ensuring seamless track changes for trains nationwide. With consistent use, the cumulative effect of repeat conditioning will make the switches more lubricated than the measurements from the trial suggest.
The first company to introduce synthetic track switch lubricants has done it again by introducing an even stronger and more cost-effective product. With their consistently successful products and solutions for the rail industry, Midwest has once again proven that they have the expertise and experience to enhance railway safety — no matter the circumstance.