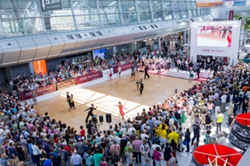 The ever-growing evolution of DUS and other airport terminals as spaces of experience beyond travel, shopping and food
Düsseldorf, Germany (PRWEB) June 12, 2015
DUS terminal was once again the location of a major European dance event and show on June 7, 2015. Teeming with both travelers and dance enthusiasts that day, the championship called "TanzTerminal, tanz" (Dance, Terminal, Dance) brought 20,000 additional visitors and 5 dance floors to the busy airport terminal. The dance event has taken place at DUS six times so far and is also part of a monthly DUS series of public interactive events called "Airlebnis" (air event experience), with themes in many different categories, including sports and family entertainment. The wide acceptance of these events at DUS reflects the ever-growing evolution of DUS and other airport terminals as spaces of experience beyond travel, shopping and food.
"Dance, Terminal, Dance" is a comprehensive all-day event (11:00 am to 6:00 pm) free to all visitors. The last event included a Latin Dance championship in which professional dancers competed for the "Düsseldorf Airport Cup." Another part was a dance showcase with stars of the current season of the TV Show "Let's Dance." Last Sunday featured audience favorites: couples Minh-Khai Phan-Thi/Massimo Sinató and Enissa Amani/Christian Polanc. Performances took place on one main dance floor and 4 smaller floors. Headliners included Australian step group "Tap Dogs," children's dance group "Rejoice" and current Discofox world champions Martha Wermann and Igor Pokasenew.
Moreover, visitors were invited to participate. Workshops in various dance styles included cha-cha, waltz, hip hop, rock 'n' roll, and the current popular dances Bachata, Dirty Dancing Discofox, and West Coast Swing. A new interactive feature for visitors was the first Discofox Championship, and the three winning couples received gift cards for the airport's extensive shopping area.
The monthly DUS public terminal events feature a variety of themes and attractions, but DUS arranges the following features at most of its "Airlebnis" days: Behind-the-scenes airport tours, airport scanvenger hunts, sweepstakes, child care, parking specials, and Sunday shopping in the airport's 60+ stores, restaurants, and bars.
Find more information online about Düsseldorf Airport and future events, please visit http://www.dus.com.
In League with New York, London, Paris and More
Düsseldorf Airport is connected nonstop with the many airlines serving seven airports in the United States: Atlanta, Chicago O'Hare, Fort Myers, Los Angeles, Miami and two airports in New York – JFK and Newark. Passengers who are continuing their journey beyond Düsseldorf Airport find a modern and convenient airport providing easy transfer to destinations in Germany – such as Berlin, Munich, Stuttgart, Hamburg, Dresden, Leipzig, Nuremberg or Frankfurt – as well as all major European destinations – from Stockholm in the North to Rome in the South, from Lisbon in the West to Moscow in the East. Throughout the year, more than 60 airlines offer more than 190 destinations in almost 50 countries. Düsseldorf Airport's attractive layout offers short passageways and a compact architecture. Just one terminal building connecting to three gates guarantees a smooth and easy path to and from the aircraft, with a connecting time of as little as 35 minutes.
The airport is at the center of the Rhine Ruhr area, a bustling network of 53 connected cities and 18 million residents within 40 miles. It is the EU's third largest market in volume and spending and equal to major metropolitan regions like New York, London and Paris. 500,000 companies are located in the area, including 5,000 offices of foreign corporations, the majority from the Netherlands, Japan and the USA. Many major international industry players, including Fujifilm Europe, Nokia Siemens, Novell, Ericsson, Deloitte & Touche, McKinsey, and Toshiba, are headquartered in Düsseldorf, which is a first-rate location for high-tech concerns. International presence and fast accessibility – guaranteed by DUS being one of Germany's major hubs – make the location highly attractive.
Düsseldorf and North Rhine-Westphalia, ranked 17 in GDP among the world's major industrial centers, are also home to some of the most significant exhibitions and trade shows in the world. Of the 50 annual events at Düsseldorf's Exhibition Center, 23 lead their industry worldwide, for example, printing technology ("drupa"), plastics and rubber ("K"), medicine ("MEDICA" and "REHACARE INTERNATIONAL"), leisure time ("boot") or packaging ("interpack"). For more information on Düsseldorf Airport, visit http://www.dus.com.
###
Düsseldorf Tourism & Marketing GmbH is the visitors and convention bureau of the city of Düsseldorf. Its services include tourism and city marketing, conference and meeting marketing, hotel reservation services, fairs and convention services, city event ticket sales and advance ticket reservations. For more information, visit http://www.visitduesseldorf.de.