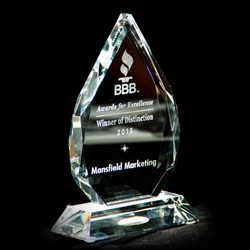 2015 BBB Winner of Distinction
Houston, Texas (PRWEB) June 22, 2015
In May of 2015 the Houston Better Business Bureau held its annual awards ceremony to acknowledge local businesses meeting their high standards to receive the Award for Excellence. The Houston marketing company Mansfield Marketing is among this year's Winner of Distinction award recipients.
Mansfield Marketing in Houston, TX specializes in working with clients in competitive industries to drive new business including: Legal, medical, financial and retail. While serving clients nationwide, their core clientele are Houston based small and medium sized businesses who enjoy the open door policy and being able to meet with their marketing team in face to face meetings.
A small and carefully selected team of employees bring the technical, creative, and sales skills required to build and manage marketing campaigns that succeed in a digital age. Owner, Doug Mansfield also conducts professional training on a one-on-one basis and through group workshops available through the University of Houston Small Business Development Center.
An emphasis on the sales process for clients separates the work performed by Mansfield Marketing from others in the field of online marketing, which includes SEO companies, online advertising agencies, and social media marketing services. As the owner Doug Mansfield says, "Having a website and online marketing campaign does not make you special in 2015. It's not enough to be good. You need to better than your competitors to win new business and technology without sales expertise won't get you there."
The rapidly changing fields of search engine optimization internet advertising require their employees to undergo frequent training, aside from the daily hands-on experience from managing accounts in multiple industries. Company accreditations include being a Google Certified Partner™, Bing Ads Accredited Professional™, and maintaining an A+ rating with the Houston Better Business Bureau.
Social marketing plays an increasing important role in client's campaign portfolios with Facebook, LinkedIn, Twitter, and Instagram all offering paid advertising options to businesses. The trick is knowing which social media ad programs can deliver results in the form of growing a company's audience, direct response, and branding.
A continuing accredited member of the Houston Better Business Bureau, Mansfield Marketing is striving towards adding another award to their collection in 2016.