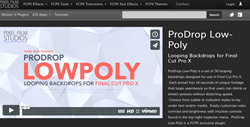 ProDrop Low-Poly is a set of 30 looping backdrops designed for use in Final Cut Pro X
Aliso Viejo, CA (PRWEB) June 13, 2015
ProDrop Low-Poly includes 30 loops ranging from slow waving styles to ultra turbulent presets. Use ProDrop presets as an interesting background to place behind text, pictures or green-screen footage. Flip presets horizontally and vertically with a simple check boxes as well as tweak the kaleidoscope presets to create completely new designs with just a few clicks.
ProDrop Low-Poly is completely customizable in Final Cut Pro X. Use a simple color wheel to tweak the overall color of presets. Final Cut Pro X users can adjust the shades of color with absolute ease as well achieve ultra edgy styles or a softer feel with just a couple parameter adjustments.
ProDrop Low-Poly will seamlessly loops any design created and is as easy to use.
Place the mouse cursor over the generator presets to preview the looping animation. Insert the desired plugin into the FCPX timeline and tweak the style parameters included. Freely stretch and shrink generators to a desired length and ProDrop will do the rest.
Pricing and Availability:
The Pixel Film Studios Plug-ins are available today through the Pixel Film Studios website starting at $29.95 USD. For more information, please visit the Pixel Film Studios website.
Established in 2006, Aliso Viejo, California-based Pixel Film Studios is an innovative developer of visual effects tools for the post-production and broadcast community. Their products are integrated with popular non-linear editing and compositing products from Apple FCPX. All Apple, the Apple logo, Mac OS X, and Macintosh are registered trademarks of Apple Inc. in the U.S. and/or other countries. All other trademarks and trade names are the property of their respective owners.