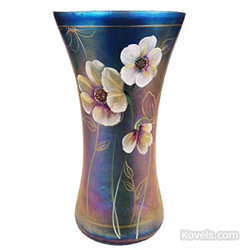 Cleveland, Ohio (PRWEB) June 12, 2015
Kovels' Top 20 list of antiques and collectibles is based on the results of hundreds of thousands of searches that took place on Kovels.com. During May 2015, collectors found for prices for: 1) Fenton glass, 2) Occupied Japan, 3) Bavaria, 4) Wedgwood, 5) McCoy pottery, 6) Dinnerware, 7) Coca-Cola, 8) Delft, 9) Depression Glass, 10) Stove, 11) Capo-Di-Monte ceramics, 12) Hull pottery, 13) Pepsi-Cola, 14) Banks, 15) Lamps, 16) Satsuma pottery, 17) Haeger pottery, 18) Trunks, 19) Scales, and 20) Belleek.
Collectors who have something made by Fenton (No. 1), probably have a vase or a plate. Fenton still makes glass, but it's not the Fenton that antiques collectors know. It's beads.
Fenton Art Glass Co. has a long, rich history. The company began in 1905, decorating glass made by nearby glass manufacturers. They opened a factory to make their own glass in Williamstown, West Virginia, in 1907. The company is particularly noted for early carnival glass produced between 1907 and 1920. The mid-2000s were difficult years for Fenton and they thought they would have to close. Instead, the company managed to restructure. It sold assets including lots of leftover product, and decided to focus on pieces that sold the best, streamline production, and offer fewer items in fewer colors to fewer dealers. Fenton stopped making traditional art glass in 2011. Today the company makes handcrafted glass beads and jewelry using many of the traditional Fenton colors and techniques, such as milk glass, vasa murrhina and carnival glass.
The 10-inch Favrene glass vase pictured was part of Fenton's 2009 Connoisseur Collection. Favrene is an iridescent glass made by Fenton, inspired by Tiffany's Favrile glass. The vase is called Lady Elegance, and sold for $295.
Collectors who visit Kovels.com can research identifying features, marks and prices of antiques and collectibles. Kovels.com and the book, "Kovels' Antiques and Collectibles Price Guide," list thousands of collectibles in hundreds of categories that are described, edited, priced and pictured.
Terry Kovel is America's foremost authority on antiques and collectibles. She is the well-known columnist and author of more than 100 books on antiques and collecting. With her daughter, Kim Kovel, she co-authors the best-selling annual "Kovels' Antiques and Collectibles Price Guide." The 2015 edition is now available in bookstores and online. They will discuss antiques and collectibles topics with accredited media. Photographs are available. Contact pr(at)kovels(dot)com.
About Kovels.com
Kovels.com, created by Terry Kovel and Kim Kovel, provides collectors and researchers with up-to-date and accurate information on antiques and collectibles. The company was founded in 1953 by Terry Kovel and her late husband, Ralph. Since then, Kovels' Antiques has written some of America's most popular books and articles about collecting, including the best-selling "Kovels' Antiques and Collectibles Price Guide," now in its 47th edition. The website, Kovels.com, online since 1998, offers more than 1 million free prices, and includes a free weekly email, "Kovels Komments." It gives readers a bird's-eye view of the market through the latest news, auction reports, a Marks Dictionary, readers' questions and answers, and much more.
Contact Information:
Liz Lillis
216.752.2252
Pr(at)kovels(dot)com