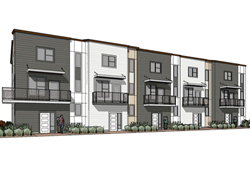 "Zero Energy Ready Homes like Garbett's live, work, and last better with incredibly low or no energy costs." - Samuel Rashkin, Chief Architect for DOE Building Technologies Office
Salt Lake City, Utah (PRWEB) June 18, 2015
Garbett Homes, a Department of Energy (DOE) Housing Innovation Award winner, announced their commitment to certify all 15 single-family homes in the new community of Treseder at Little Cottonwood as DOE Zero Energy Ready Homes. According to DOE, Zero Energy Ready Homes are the homes of the future because they meet or exceed next generation energy codes and include substantial innovations and best practices recommended by leading housing experts working with the DOE Building America program. Homebuyers can buy these visionary homes today, including Treseder, which is available for sale now with the model home opening on August 1, 2015. By meeting or exceeding DOE requirements, these homes will effectively be in the top 1 percent of homes in the nation for outstanding levels of energy savings, comfort, health and durability.
From solar panels to increased insulation, new homes in Salt Lake City by Garbett contain the latest in energy efficient building practices. DOE Zero Energy Ready Homes are verified by a qualified third-party and are at least 40-50 percent more energy efficient than a typical new home. This generally corresponds to a Home Energy Rating System (HERS) Index Score in the low- to mid-50s, depending on the size of the home and region in which it is built. The homes in this community are expected to achieve a HERS Index Score of 50, meaning the home is nearly 50 percent more energy-efficient than an average new home in Utah and as much as 70 percent or more energy-efficient than the average existing home. The annual energy cost of this home is $1,186 dollars less than a house built to the 2009 International Energy Conservation Code.
Samuel Rashkin, Chief Architect for DOE Building Technologies Office said, "Zero Energy Ready Homes like Garbett's live, work, and last better with incredibly low or no energy costs. And what's exciting for American homebuyers, this better homeowner experience is available today thanks to leading builders across the country."
Garbett, with the tagline "green within reach" was founded by Bryson Garbett, who began in the industry as an 18-year old framer. After college he started his own company with the goal of providing each and every one of his homebuyers and renters with the best possible home. He says, "With Garbett, you'll feel at home the moment you walk in the front door. Our experience and longevity are only surpassed by our desire to continually improve and innovate."
Garbett is a DOE Zero Energy Ready Home Partner committed to meet all requirements set forth in the DOE Zero Energy Ready Home National Program.
For more information about Garbett's green technology, please contact the corporate office at 801-456-2430 or email info(at)garbetthomes(dot)com.
About Garbett Homes
Garbett Homes has been building, marketing and selling award winning communities for over 30 years. Their experience and longevity are only surpassed by their desire to impress each home buyer or renter with the best possible experience. With Garbett Homes, you'll feel at home the moment you walk in the front door. They are proud to build affordable energy efficient homes from the mid $100s to the high $400s with style and class around the Salt Lake City area. As one of the greenest new home builders in utah, Garbett offers the most up-to-date technology and design available.