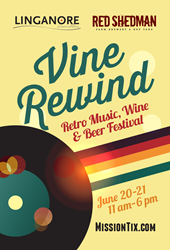 Frederick, MD (PRWEB) June 12, 2015
Vine Rewind Wine, Music & Art Festival will celebrate the music of the 70s, 80s and 90s - June 20 and 21, 2015.
Linganore wine festivals attract thousands of wine lovers, music fans, friends and families to picturesque Linganore Winecellars in the Mt. Airy, Maryland, just 39 miles from Baltimore/ Washington DC.
At the 4th annual Vine Rewind festival, guests can sample 19 featured Linganore wines—including award winning wines like White Raven, Chambourcin and Blackberry (2015 Best in Class Gold Medal winner)—and take tours of their eco-friendly wine-making facility. New this year, Red Shedman Farm Brewery will be selling pints their craft beer.
Rewind to your favorite decades-dance and sing along to hits from the past. Linganore brings 4 different bands to the festival to provide this trip down memory lane. Saturday, join Wylde Fire and Spiral in the good times and Sunday rock out with Loose Ties and The Reflex. To celebrate Father's Day, all dads get in ½ price. Vendors will be selling handcrafted goods, fine art, delicious food and more.
Show off your love for classic and exotic cars! The first 50 classic/ exotic cars get to park inside the festival grounds and their driver receives free admission. Rewind to the good old days with Linganore.
The festival grounds open at 10am and music is from 11am-6pm. Tickets are can be purchased online at http://www.missiontix.com. Linganore Winecellars is located at 13601 Glissans Mill Rd, Mt. Airy, MD 21771.
For additional information, go to http://www.linganorewines.com/festivals or call 301-831-5889. Be sure to follow them on Facebook and Twitter for up-to-the-minute news or check out LinganoreWines.com
For photos from last year's Vine Rewind, click here.