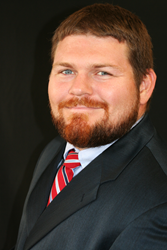 "Mr. Tierney is a great employee. He's a hard worker and we are lucky to have him."
Fort Myers, FL (PRWEB) June 12, 2015
Matt Tierney has been promoted to a senior client services associate at AdvantaIRA Trust, LLC headquartered in Fort Myers. He has been with the nationwide self-directed IRA administrator since September 2013.
Matt Tierney is from Niceville, Florida. Immediately after high school he joined the United States Air Force where he served from 2002-2008. After serving for six years, Mr. Tierney attended the University of West Florida, receiving his bachelor's degree in economics. In 2013 he moved to Fort Myers upon receiving a job at the self-directed IRA administrator, AdvantaIRA Trust.
Tierney first started his job at AdvantaIRA Trust as an accounting associate who handled incoming checks and deposits. Two years later, he has been promoted to a senior client services associate. He now handles precious metals transactions, trust brokerage accounts, LLCs and private placements. Aside from handling various transactions for the retirement plan administrator, he is very involved within the local community. He is a member of the Naples Hammerhead Rugby Club and will be the new treasurer of the Florida Rugby Union beginning next month. Tierney has recently volunteered for the Ronald McDonald House as well as for other charities throughout Southwest Florida. He excels in customer service and is a valuable asset to the AdvantaIRA Trust team.
"Mr. Tierney is a great employee," says Dave Owens, managing partner of AdvantaIRA Trust. "He's a hard worker and we are lucky to have him." The local IRA administrator holds alternative assets such as real estate, notes, single-member LLCs, and precious metals within a tax-sheltered accounts. Self-directed accounts include traditional, Roth, SEP, SIMPLE IRAs, and Individual 401(k)s. Tierney handles multiple assets and can be reached by calling 239-333-1032.
About AdvantaIRA Trust
AdvantaIRA Trust is a self-directed IRA administrator that provides tax-deferred and tax-free investment opportunities, superior customer service, and educational tools to assist investors in realizing the maximum benefits possible within IRAs. AdvantaIRA makes it easy to use self-directed retirement plans to invest in assets that the individual investor knows, understands, and can control. To learn more visit www(dot)AdvantaIRA(dot)com.
About Dave Owens
Dave Owens is the managing partner at AdvantaIRA Trust in Fort Myers, Miami, Gainesville, New England, and the Florida Panhandle. Owens opened the AdvantaIRA Trust headquarters in Fort Myers, FL in 2003. His background as a certified public accountant, combined with a long history of personal retirement self-direction, provides his audiences and clients with solid advice and practical solutions to their IRA investment questions. Dave holds a BS in accounting from Purdue University. He also earned the prestigious Certified Exchange Specialist designation through the Federation of Exchange Accommodators.